10 Sneakers That Helped Transform American Culture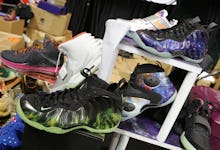 Kendrick Lamar made headlines this week when he released his signature shoe with Reebok aimed at tackling gang violence:
It was a meaningful message mixed in with all the hype surrounding sneaker culture. From a new exhibit on the history of sneakers at the Brooklyn Museum to the annual Sneaker Con set to hit New York City later this month, shoe talk is all the rage.
In honor of the universal appeal of sneakers and the very specific context from which a billion dollar industry gained prominence, here's a brief look at 10 sneakers that changed American culture, according to The Sneaker Hall of Fame: All-Time Favorite Footwear Brands:
1. The Foster's Running Pump
In 1900, English company J.W. Foster and Sons developed what they called the first "running pump" for athletes who jogged on roads. Today, that company is known as Reebok. 
2. Converse All Star
Developed by the Converse Rubber Corp. in 1917, the Converse All Star remains one of the best-selling sneakers of all time. Yet it wasn't until the late '60's that the company introduced colors other than black and white.
3. Pro-Keds
Released in the United States around 1917, Keds revolutionized shoe-making by producing rubber specifically used for shoe soles.
Germans Adolph and Rudolph Dassler had been making shoes since the 1920s. But in 1944, they had a huge falling out, went their separate ways and founded two different companies. Adolph formed Adidas, whose Superstar shoe, introduced in 1969, became a hip-hop icon and the star of Run DMC's 1986 hit, "My Adidas."
5. Puma Suede/State
Meanwhile, Dassler went on to form rival shoe company Puma, whose "Suede" became iconic in its own right after track star Tommie Smith carried a pair after his infamous 1968 black power salute at the Mexico Olympics.
6. Onitsuka Tiger
Japanese shoemaker Kihachiro Onitsuka began working on the shoe that would become the Tiger back in 1949 to keep troubled youth busy with sports. The shoe was imported to the United States in 1963 with the help of Phil Knight and Bill Bowerman, who later cofounded Nike.
7. Nike Cortez
Knight and Bowerman took apart to the Onitsuka Tiger to develop a shoe that would become the Nike Cortez after a dispute over contracts. The shoe was introduced in February 1972. The shoe's arch support made them a hit with runners, as seen in Forrest Gump. Later, they became and important part of Los Angeles's Chicano street style.
8. Vans Era
In the early 1970s, Southern California skater kids began wearing shoes sold by a local shoemaker named Paul Van Doren. The shoes had previously been worn as "deck shoes," but skaters gravitated toward them because of their thick soles, which helped break tough falls off their skateboards. 
9. Nike Air Jordan 1
Nike launched the Air Jordan 1 in 1985 as part of an ambitious multimillion dollar ad campaign centered around young Chicago Bulls phenom, Michael Jordan. Jordans have since gone on to become the most coveted and among the most successful sneakers ever made.
Writing about the first Air Jordans in his book Where'd You Get Those? New York City's Sneaker Culture: 1960-1987, DJ and tastemaker Bobbito Garcia defies conventional wisdom and argues that the first Air Jordans, which boasted a $20 million ad campaign, "looked garbage" but signaled an important shift in the industry. "Air Jordans represented the antithesis of what sneaker culture in New York was all about," Garcia writes. "It was the first sneaker that gained popularity on the street it didn't deserve. It was the beginning of a homogenous style for youth and brand loyalty."
10. Nike Air Max 1
Nike was on a roll in the late 1980s. In 1987, the company introduced the Air Max 1, which offered a "pressurized gas encapsulated in polyurethan" invented by Californian engineer Marion Frank Rudy. It was groundbreaking not only for the science in its sole, which provided air cushioning, but also for opening up that sole up to viewers with its famous air bubble.