Why Sneaker Culture May Not Be All That It's Cracked Up to Be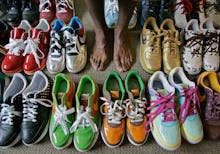 There's probably no better example of how indelibly sneakers have scuffed their way from inner city playgrounds to the world of high arts than the Brooklyn Museum's new exhibit, "The Rise of Sneaker Culture." Part of a touring exhibition organized by the American Federation of Arts and Toronto's Bata Shoe Museum and on display July 10 to Oct. 4, the show's look at culture and consumerism is probably the most fun you'll have in a museum in a long time. But beneath the glitz and glamour of some of American culture's most popular shoes are two uncomfortable questions: How much does our obsession with kicks really cost? And who in our culture is paying the steepest price?
The new exhibit grapples with those questions, but doesn't answer them. It features a walk-through display of dozens of classic shoes, ranging from the very first commercial tennis shoes to the dominant sway of Nike's historic line of Air Jordans. 
Installations throughout the exhibit include a video installation up that looks at the distinctly urban phenomenon of shoes hanging from telephone wires, photographs by Hank Willis Thomas, one of today's most important contemporary black artists, and Missy Elliott's 2005 video "Work It" plays on one end of the installation, zeroing in on the rapper's Adidas-clad dance-off with Tommy Lee (who, by the way, rocks a pair of classic Chucks).  
What's curiously missing from the installation is a direct look at how race colors America's sneaker obsession. It's hinted at in the exhibit, notably in video installations by black and Latino artists, but not stated directly. The exhibit itself is a living and breathing embodiment of hip-hop, a culture that was created by black and Latino youth in the early '70s and exploded in the '80s. 
Back then, "there was no sneaker culture," Sean Williams told Mic. He grew up with hip-hop in New York City and is a co-founder of the brand marketing company Obsessive Sneaker Disorder. "When you see pictures of Run DMC, that wasn't anything special as per sneaker culture. That was standard everyday dress. That was the requirement to have fresh shoes." 
But as hip-hop culture and style grew, it was the shoes that carried it to new global audiences. "It has become an easy way for people to identify the phenomenon," Williams said.
Brands like Nike and Sprite swooped in on hip-hop culture, sparking a multibillion-dollar industry with tentacles in nearly every other cultural form, including movies, music and sports. The sneaker business itself generates $22 billion in the United States alone and has grown nearly 30% since 2004, according to Forbes. Nike, the most popular athletic shoe apparel retailer in the U.S., generates more than $30 billion in sales each year.
Uprooting street style: Meanwhile, the economically pillaged communities that made sneakers cool, like New York's South Bronx and Harlem, were largely left out of the financial boom. Writing about the first Air Jordans in his book Where'd You Get Those? New York City's Sneaker Culture: 1960-1987, DJ and tastemaker Bobbito Garcia defies conventional wisdom and argues that the first Air Jordans, which boasted a $20 million ad campaign, "looked garbage" but signaled an important shift in the industry. "Air Jordans represented the antithesis of what sneaker culture in New York was all about," Garcia writes. "It was the first sneaker that gained popularity on the street it didn't deserve. It was the beginning of a homogenous style for youth and brand loyalty."
Cultural critic Michael Eric Dyson writes that, for black men in particular, sneaker culture invites both peril and promise:
"The sneaker reflects at once the projection and stylization of black urban realities linked in our contemporary historical moment to rap culture and the underground political economy of crack, and reigns as the universal icon for the culture of consumption. The sneaker symbolizes the ingenious manner in which black cultural nuances of cool, hip and chic have influenced the broader American cultural landscape. It was black street culture that influenced sneaker companies' aggressive invasion of the black juvenile market."
"For us black and brown people, it's an industry we don't get taught to be in," said Williams, whose company created what it calls a "solecial studies" class to help develop young black and Latino people in business who are passionate about sneaker culture. 
We're in the middle of a summer of sneakers, so to speak. In addition to the Brooklyn Museum's exhibit, SneakerCon, which bills itself as the "world's premiere sneaker event," kicks off in New York on July 25.
For Williams, the heightened exposure given to sneaker culture is a good thing, because it signals how relatable hip-hop has become to a more general audience. "Everyone wears sneakers," he said. "It's easier to break them out [from hip-hop] and make them their own thing."