Watch U.S. Women's Soccer Player Megan Rapinoe Be Completely Adorable on SportsCenter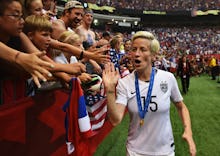 As the U.S. Women's Soccer team is running their victory lap across American media this week after their World Cup win July 5, a few team members stopped by ESPN's SportsCenter to have some fun. That included Megan Rapinoe, who, during one segment, was asked to use one word to describe herself. The one she chose was the best:
She's gay! We knew this about Rapienoe, but this year's Women's World Cup tournament fielded a record number of out players. To be exact, 16 players and two coaches, show women's sports is far ahead of its male counterparts when it comes to accepting and acknowledging sexual orientation. Lindsay England, who works with the organization Just a Ball Game, which works to end LGBT discrimination in soccer, told Outsports as much: "While the men's professional game has been reluctant to be fully inclusive and supportive of anyone within the game who identifies as LGBT, it's generally regarded that football is much more accepting of women who are lesbian or bisexual."
Rapinoe showed it best: Gay soccer players are here, they're queer, and we're used to it.