This Is What the #BlackLivesMatter Founders Want You to Know on the Movement's Anniversary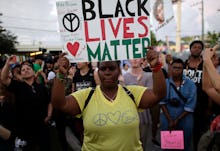 On July 13, 2013, George Zimmerman was acquitted of charges relating to the murder of Trayvon Martin. The 17-year-old Martin's death sparked outraged calls for justice across the country, and in many ways marked the beginning of what has become a modern movement to end the extrajudicial killings of black people in the United States. 
The decision to acquit Zimmerman was met with widespread anger and a call to action. Three black women — Alicia Garza, Patrisse Cullors and Opal Tometi — took up that call and founded #BlackLivesMatter, which has gone from hashtags and handwritten signs to organizing summits. It is a rallying cry that's focused on state- and hate- sponsored violence directed at black communities, and with each passing month, it's becoming louder. 
Each of the co-founders sent Mic a statement to mark the anniversary. 
Alicia Garza: 
For many, birthdays mark joyous occasions. They are celebrations of life, celebrations of another year of growth, lessons learned, obstacles overcome." She continued, "#BlackLivesMatter rises from the ashes of the black lives that are taken each and every day by anti-black racism and state-sanctioned violence. 
Opal Tometi:
I'm grateful that BLM has resonated with people like my family members in Nigeria and allied international networks like the European Network People of African Descent. International networks like these know that economic globalization and criminalization of blackness is affecting our people everywhere. In the 21st century, we need our movements to be rigorous about addressing the root causes of these persistent injustices.
Patrisse Cullors:
All my life I witnessed the horror poor black folks faced at the hands of the state. From police raids to mothers on welfare, unable to feed their children. I remember feeling like black folks deserved so much more. We deserve a love that is true and divine. A love that is meant to protect us. On the BLM two-year anniversary, I want #BlackLivesMatter to be a forum for ALL black lives. I want us to love fiercely and deepen our connectivity. #BlackLivesMatter is more than a slogan, it is a way of life. A new way of life where black is beautiful, glorious and full of grace.
Some may balk at the concept of hashtag activism, but these three women coined the phrase to unify a bubbling movement that's not only existed on social media, but has played out in incredibly powerful moments across the country over the last two years. Here are a handful of the iconic #BlackLivesMatter moments that have led and shaped the current course of black activism in the United States.
1. Protests in Ferguson, Missouri
#BlackLivesMatter gained worldwide attention following the death of Mike Brown, an unarmed 18-year-old who was shot and killed by former Ferguson police officer Darren Wilson. 
2. President Barack Obama pressed to talk about racism
It's gained so much prominence that even President Barack Obama has taken notice. Earlier this year on The Late Show With David Letterman, the president danced around the phrase "black lives matter," saying, "How can we send a message to young people of color and minorities, particularly young men, saying your lives do matter?"
3. Oakland, California, demonstrations
During a bold action late last year in Oakland, California, protesters shut down roads near the city's police headquarters. One scaled a flag pole and put up a sign that remembered black lives lost to police violence, including 22-year-old Oscar Grant, an unarmed black man who was shot and killed in Oakland by police in 2009, as portrayed in the 2013 film Fruitvale Station.
4. Athletes take a stand. 
Some of the world's most famous athletes began showing support for #BlackLivesMatter. NFL and NBA players wore t-shirts and wrote messages on their shoes, including former NBA MVP Kevin Durant.
NBA players also took note after footage was released of New Yorker Eric Garner being strangled to death by police officers in 2014. Garner was captured on video during the altercation, telling the officer strangling him, "I can't breathe." 
5. Clinton uses her platform
In a surprise move late last year, current presidential hopeful Hillary Rodham Clinton became the most high-profile American politician to say "Black lives matter." In April, shortly after she announced her campaign for the presidency, Clinton said the nation needed to face "hard truths about race and justice," specifically police reform, the disproportionate practice of killing unarmed black people at the hands of police and mass incarceration.
"Without the mass incarceration that we currently practice, millions fewer people would be in poverty," she said, according to ThinkProgress. "You cannot talk about smart policing and reforming our justice system without talking about what's needed to improve economic opportunity, better educational chances for young people, more support to families so they can do the best jobs they are capable of doing to help support their own children."
What's next: In the last two years, Garza writes that the focus on black lives has been rising, but stories focused on women and LGBTQ people are still excluded in the larger movement — even though the hashtag itself was started by queer women. 
"Intersectional politics (and practice) is not just theoretical," Garza wrote on Medium. "It is the lifeline upon which we depend for our collective liberation."
Garza's note, and the collective actions of the last year, reminds us that there's still plenty of work left to be done. But it's been quite a ride so far.