Here's How Caitlyn Jenner Earned the Arthur Ashe Courage Award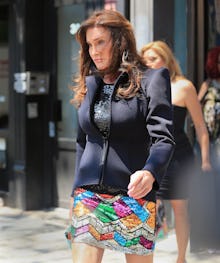 Caitlyn Jenner is the recipient of this year's Arthur Ashe Courage Award. 
Some people in the sports world aren't so happy about it. Take longtime sportscaster Bob Costas:
Jenner, 65, publicly came out as transgender to ABC's Diane Sawyer in April. Since her coming out, she's also used her platform as one of America's most recognizable reality television stars to bring awareness to a host of issues that affect disenfranchised trans communities. During her groundbreaking ABC interview, Jenner cited the extreme violence facing black transgender women, which outpaces violence facing other trans communities but goes largely ignored by mainstream media.  
While Jenner has been lauded for her courage in news outlets, her impact on the sports world is arguably even more meaningful. Why? Because sports are still an aggressively masculine space in American culture that looks like this: 
There's perhaps no better example of that than Jenner herself, who first came to prominence in the 1970s as an Olympic decathlon gold medalist, the epitome of American masculinity. 
As a child, Jenner was diagnosed with dyslexia and struggled at school, but diving into sports changed everything. The Washington Post reports a college coach introduced Jenner to the decathlon, a brutal athletic challenge requiring strength, dexterity and endurance in 10 track and field events — a true test of athleticism, where an Olympic gold medal earns the winner the title "world's greatest athlete."
Jenner came in 10th at the 1972 Munich Olympic Games, but took to training upwards of eight hours a day for the following several years to prepare for the 1976 games in Montreal. Donning the colors of the American flag, Jenner gave an epic performance in America's bicentennial year, triumphing over Russian foe Nikolay Avilov right at the height of the Cold War. 
This was an especially important win for the United States. It was a chance for the country to flex its muscles at the Soviet Union. In fact, tensions were so heightened, U.S. Olympians boycotted the 1980 games in Moscow, and Russian athletes boycotted the 1984 games in Los Angeles.
But Jenner became an American hero thanks to the gold medal performance. As outlets like ESPN came into existence, Jenner became a household name, famously appearing on the cover of Wheaties boxes in the 1970s:
The cover of Sports Illustrated:
And Playgirl, in a feature titled "The Fall and Rise of an American Hero."
Jenner made the most of Olympic fame, with a trip to the White House:
And landing television and film roles. Jenner even danced on camera with the Village People:
But even as she became an icon of American masculinity, Jenner hid her womanhood. In her interview with Diane Sawyer, Jenner remembered that time as being very painful, where she was "running away from my life, running away from who I was."
"With fear?" Sawyer asks. 
"Big time fear, yeah," Jenner answers. "Scared to death."
During the interview, Sawyer held up a photo of Jenner during her landmark 1976 performance, asking her to contextualize what the young athlete felt in the moment. 
She teaches us all a lesson: Jenner, once heralded as the epitome of American manhood, is showing the world that gender is a social construct. 
That sentiment just about sums up why Jenner's transition makes some people in the sports world so uncomfortable. Women-identified athletes rarely ever get the attention they deserve. People who are assigned female identities, either at birth or later in life, aren't just seen as inferior. They're treated like it too. 
Take soccer's U.S. Women's National Team, for instance. 
They may have played like World Cup champions, but certainly weren't paid like it. The women's winners were paid $33 million less than their male counterparts.
Gender, allies and athleticism: Jenner's emergence is easily among the year's most important sports stories. It's shifted the sports world's definitions of gender, and forced cis and straight athletes to deal directly with how they view and treat LGBT teammates.