The Thing the Government Can Do Now in Response to Police Violence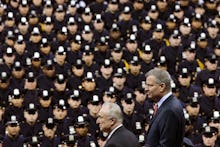 On Wednesday, June 8, Jonathan Sanders, a 39-year-old black father of two from the small town of Stonewall, Mississippi, was killed during a physical altercation with white Stonewall Police Officer Kevin Herrington.
Sanders was unarmed and, according to Stonewall Police Chief Michael Street, engaged in a weaponless "fight" with Herrington after voluntarily stepping down from the horse-drawn buggy he was driving, the Guardian reports. But attorneys for Sanders' family allege that Herrington was the aggressor, placing Sanders in a fatal chokehold for 20 minutes as he repeated "I can't breathe." One witness reportedly said Herrington used racist language prior to the encounter as well.
Sanders is one of  613 people to have been killed by police in the United States so far this year, according to the Guardian's "The Counted" project. And he is one out of 135 people (50 of whom are black) to have been killed by police while unarmed. But concerned Americans wanting to corroborate this shocking, real-time data via a federal government source are out of luck. Despite the violence, there is still no federal police misconduct tracking system in the U.S. 
This is a disgrace.
Much of the public outrage in response to this year's spate of police violence, especially that against black Americans, has to do with the reluctance on the part of the federal government to do the critical work of collecting police misconduct data and then adequately responding. As I've argued before in the Guardian, "while black Americans do not need a government database to verify our personal and vicarious experiences of ill-treatment at the hands of the police, the lack of a comprehensive countrywide police misconduct tracking system in 2015 should be recognized as a national public policy embarrassment."
Rashad Robinson, the executive director of ColorOfChange.org, the nation's largest online civil rights organization, has asserted the same, writing in the Guardian, "[T]he verifiable impact on black lives of racially discriminatory policing remains largely unknown. Despite federal law authorizing the U.S. attorney general to collect nationwide data on police use of force, there remains no federal database on how often police kill civilians, let alone abuse their authority."
Creating a single, comprehensive police misconduct data tracking mechanism is a logical first step in undoing the larger problem of police violence in the U.S. 
Funding should not be an issue. The Obama administration has already allocated a three-year budget of $75 million through the Justice Department to train and provide police departments with body cameras, despite the critiques of these cameras offered by several groups seeking police accountability and policing reform. Many cite the fact that police murders captured on video — like that of Eric Garner, whose fatal strangulation by a New York City police officer in July 2014 was recorded — don't always lead to prosecution.
The lack of a single, comprehensive police misconduct data tracking mechanism is a logical first step in undoing the larger problem of police violence in the U.S. 
Trust between communities and police cannot be built without a national accountability measure. A White House fact sheet on fairness and effectiveness in the criminal justice system lists several initiatives aimed at increasing trust between police and civilians, such as the Police Data Initiative. 
While the initiative, launched by the administration in March 2015, sounds promising, it places the sole responsibility on local law enforcement agencies around the country "to publicly release data that they had not previously released concerning stops and searches, uses of force, officer involved shootings, citations, complaints and other police actions." 
Given the magnitude of police misconduct and killings in this country, it is ridiculous to trust individual law enforcement agencies with the work of ensuring transparency and accountability for acts of misconduct it may want to hide and contain. That is why a national uniform tracking system that makes data tracking a required priority is beyond its inception date. 
Beyond police shootings, the Daily Kos' Rick San notes, "We need a nation-wide database ... of excessive force by police, deadly and excessive force against unarmed civilians, deaths in police custody, police invasions of civilian homes and schools, police force against minors (children, infants, pregnant women), police force against the elderly, police force against the disabled (handicapped, invalid, mentally challenged), police force against military veterans, police force against other police persons and police force motivated by hate."
This issue isn't going anywhere. How many deaths will it take for our government to understand our need for a 21st century police misconduct data tracking system and accountability measures?