Caitlyn Jenner Is Teaching the World How to Use Privilege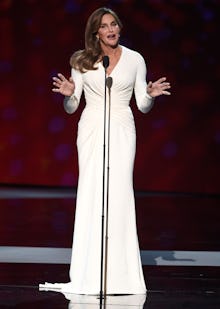 Caitlyn Jenner delivered a lengthy, emotional speech on Wednesday night, offering words of encouragement to anyone struggling with their identity, as she accepted the Arthur Ashe Courage Award at the ESPYs.
"If you wanna call me names, make jokes, doubt my intentions, go ahead," Jenner said. "The reality is I can take it, but the reality is... the thousands of kids out there coming to terms with who they are, they shouldn't have to take it."
The gravity of this moment at the ESPYs was felt by people watching around the world, whether they live and breathe sports or they tuned into this three-hour awards show just to watch Jenner accept the award. As this person put it: 
Jenner is teaching the world how to use privilege responsibly: During her speech, Jenner went out of her way to talk about the challenges facing transgender women of color. She remembered Mercedes Williamson, a 17-year-old transgender woman of color who was found murdered in Mississippi last month. 
"If there's one thing I do know about my life, it's the power of the spotlight," Jenner said. "With attention comes responsibility. As a group, as athletes. How you conduct your lives. What you say, what you do, is absorbed and observed by young people."
It's not the first time Jenner has used her platform to shine a spotlight on communities of color. During her coming-out special with ABC's Diane Sawyer, Jenner made a point of talking about the violence facing black trans women. 
Transgender women make up 72% of victims of anti-LGBT homicides, and people of color make up 67%, according to a report from the National Coalition of Anti-Violence Programs. During a five-month span in 2014, eight transgender women of color were found and reported murdered. Those statistics have names, like Aniya Parker, Islan Nettles and Zoraida Reyes. 
"It is an honor to have the word 'courage' associated with my life," Jenner said during her acceptance speech. "But on this night another word comes to mind, and that is 'fortunate.'"
Bravo, Caitlyn.