President Obama Just Did What No President Has Done Before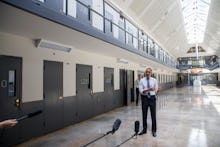 President Obama is making history, again: On Thursday, he became the first sitting president to visit a federal prison.
Obama's visit to El Reno federal prison in Oklahoma on July 16 is part of his administration's focus on criminal justice reform. On Monday, Obama announced that he would be commuting the sentences of 46 people convicted for nonviolent drug offenses. And on Wednesday, the White House released a fact sheet detailing the various efforts that have been developed to make the United States' criminal justice system fairer and more effective.
It's clear that Obama is taking a different approach to criminal justice reform than his predecessors, as the New York Times' Peter Baker observes, and his commendable efforts should be acknowledged in their own right. But his recent focus on criminal justice also provides an invaluable window into the dire conditions of a system that continues to disenfranchise so many U.S. citizens and undocumented people — of which too many remain unaware.
As criminal justice reform begins to take center stage, and as presidential contenders begin crafting their platforms for 2016, here are eight such issues the U.S. public needs to know.
1. The U.S. is home to the largest population of incarcerated people. 
The U.S. boasts an incarcerated population of roughly 2.3 million — the largest in the world (followed by China with 1.7 million), according to the International Centre for Prison Studies. That accounts for 707 adults per every 100,000 residents in the U.S., the Washington Post reports.
2. There are more correctional institutions than degree-granting institutions in the U.S. 
There are 1,821 state and federal correctional facilities in the U.S., according to a 2005 report by the Bureau of Justice Statistics, as well as 3,283 local jail facilities, according to a 2006 BOJ census. That brings the total number of correctional facilities to 5,104 — compared with just 4,706 degree-granting institutions (a number that accounts for 1,738 four-year colleges and 2,968 two-year colleges).
3. Prison demographics highlight racial inequity.
Black and Latino people account for roughly only 30% of the U.S. population, but make up the majority of the prison population — 58%, according to the NAACP.
4. The civil liberties of incarcerated individuals are threatened.
Incarcerated felons are not able to vote in any U.S. state apart from Maine and Vermont. And nearly 6 million people are denied the right to vote even upon completion of their sentences if they have felony offenses, according to Demos, a leading progressive public policy organization in the U.S. The fact that black and Latino people make up the majority of the prison population, combined with the fact that, as Demos reports, "one out of every 13 eligible African-Americans of voting age has lost their right to vote," makes this disenfranchisement a civil rights problem.
What's more, "although people in prison can't vote, and remain legal residents of their home communities under the laws of most states, the Census Bureau currently tabulates people in prison as residents of their prison cells, not their homes," Demos reports. In other words, though prisoners can't vote, their bodies remain useful to politicians because prison populations are used to shift the boundaries of electoral districts. 
5. Taxpayers invest an inordinate amount of money in prisons. 
According to a Vera Institute of Justice survey, the average cost per inmate for prisons was $31,286 in 2012. The report also notes the total cost of prisons to taxpayers was $39 billion in that year. 
The per inmate cost was more than double the $12,401 in government expenditures per student enrolled in K-12 public schools during the 2011-12 academic year, as reported by the Institute of Educational Services.
6. Crime pays — literally. 
Private prisons are moneymakers. Two of the biggest private prison companies in the country, Corrections Corporation of America and the Geo Group, made $3.3 billion in annual revenue in 2012, according to Truthout. Some view their prison stock as viable investment options with "long-term returns" for monetary gain.  
The two companies also spent a combined $45 million on donations to campaigns and lobbyists to influence key issues like immigration at the state and federal levels in the last decade, the Associated Press found. 
In the 1990s, scholar and activist Angela Davis deemed this convergence of interests as part of the "prison industrial complex." The term is often used to describe the ways criminal justice practices — like policing and imprisonment — are developed by the government in tandem with corporate interests. In other words, building prisons and imprisonment tends to result in profits.
7. Some private companies benefit from cheap prison labor. 
"There is large-scale exploitation in American prisons benefiting American corporations," Alternet's Terrell Jermaine Starr writes. Whole Foods, for example, which boasts a $13 billion annual revenue, has reportedly paid incarcerated people in the Colorado prison system $1.50 per hour to farm tilapia. Suniva Inc., a solar panel manufacturer in Georgia, reportedly contracts some of its work to federal inmates. 
This labor is nothing new. "As prisons proliferate in U.S. society, private capital has become enmeshed in the punishment industry," Angela Davis noted in a 1998 Colorlines article. "And precisely because of their profit potential, prisons are becoming increasingly important to the U.S. economy."
8. Abuse of undocumented people is a critical problem in U.S. federal detention centers.
Undocumented persons held in so-called "criminal alien requirement prisons" face myriad issues. 
"Because the prisons are privately run," TakePart's Matt Fleischer notes, "they are only contractually obligated to follow 40 of the more than 200 regulations that govern typical Bureau of Prison operations. Perhaps most disturbing is their dependence on solitary confinement. Criminal alien requirement prisons must construct 10% of their bed space into extreme isolation units — that's nearly double the rate of other federal Bureau of Prison facilities."
Given these concerns, Obama's visit Thursday signals a hopeful step in the right direction. At stake are the lives of millions of Americans. What also must become clearer to the public is how much our criminal justice system remains shaped by the almighty dollar. As long as prisons are seen as viable capital investment, incarcerated people in the U.S. will be treated as commodities rather than human beings with rights.