Eric Garner's Brutal Death One Year Ago Left Something Unexpected Behind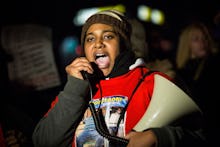 Erica Garner, 25, is a woman of detail. 
She uses that fact to help explain why she's watched the video of her father's death on July 17, 2014, at least a thousand times, by her count. She wants to get a frame-by-frame account of exactly what happened to her father, 43-year-old Eric Garner, on a summer day on Staten Island, New York, when he was confronted by New York Police officers for selling unlicensed cigarettes, tackled to the ground and suffocated. 
Who stood where? What were all of the officers' names? Does she recognize any of the faces of people standing around? How many Emergency Medical Technicians arrived, and who were they?
"[The video was] all over the news, being played and replayed," she told Mic. "[It's] what inspired me to come out and speak on my father's death because of the way they treated his body." 
Like many other young people, Garner saw her father's violent death as a call to action to stand up and fight police brutality. 
"That's why I watched it it over and over — even though it's terrorizing," she said.  
That fateful day: On July 17, 2014, Eric Garner stood outside of a Staten Island bodega trying to break up a fight. Police soon arrived and confronted Garner for selling "loosies," or unlicensed cigarettes. "Every time you see me, you wanna harass me," Garner told the officers. "I'm minding my business, officer. Please, just leave me alone." But those officers didn't leave him alone. Instead, five of them tackled Garner to the ground while he pleaded that he couldn't breathe 11 times. Officer Daniel Pantaleo put Garner in a chokehold, a tactic that had been banned by the NYPD more than two decades prior. Garner died roughly an hour later at a nearby hospital.
The whole ordeal was captured on camera by Ramsey Orta, and video of Garner's death soon went viral, inciting widespread national outrage and protests in New York City. Last December, a grand jury declined to charge Officer Pantaleo in Garner's death, and he remains on the police force. Meanwhile, this week the city announced a $5.9 million settlement with Garner's family. 
Garner's death also spurred intense criticism of the so-called "broken windows" method of policing, which was pioneered by New York City in the 1980s. The strategy is based on the idea that stopping low-level offenses — like selling unlicensed cigarettes — will prevent more serious crimes, according to WNYC. Pantaleo was enthusiastically adherent to the policy, racking up 259 arrests in cases that made it to court on Staten Island. Only 24 of those arrests were for felonies, while the rest were for low-level crimes like trespassing, according to WNYC. 
In the year since Eric Garner's death, the video of his violent last moments has also terrorized thousands of other viewers, but it's also incited them to action. Garner's last words, "I can't breathe," became a rallying cry at protests in city streets and on basketball courts. 
Garner himself was yet another victim in black America's long history of state violence. In recent years, that history has morphed into a sustained political movement to address police brutality, getting attention from the White House and the media.
A rallying cry: Activists, many — not all — of whom have united under the banner of Black Lives Matter, have helped push the conversation forward. They have demanded accountability from police departments and politicians, called for the establishment of a mechanism by which police violence can be accurately tracked and measured and offered their own attempts to capture such data in hopes that it can spur institutional change (Currently, there is no reliable database that tracks fatal police encounters).
But in this moment, there is perhaps no activist more important than Erica Garner, who traces her own political awakening to that July day in 2014 and her father's fatal confrontation with police. To mark the one year anniversary of her father's death, she's keeping a busy schedule that leaves little time for the solitude of grief. To keep his name alive, she never lets people forget. 
She's speaking at The Dream Unfinished, an orchestra event in New York City, Friday night, followed by a church service in Staten Island, and another speech at the memorial at Restoration Plaza in Brooklyn. That doesn't include the many smaller events planned throughout the city to help mark the occasion, some of which have been planned in conjunction with the Garner Way Foundation, which Erica established to memorialize her father. 
The day's events will cap a year's worth of intense, high-profile activism for the younger Garner. She has staged die-ins at the spot where her father died, traveled the country to speak to audiences about her journey and called out vandals who torched her father's memorial. She's marched through the streets of Baltimore to protest the death of Freddie Gray, another black man who was killed by police. And she's bravely called out people, like the Rev. Al Sharpton, who she says have tried to profit from her father's death. 
"I didn't choose this," she says of her activism. "But I'm embracing this. I want to keep his name alive, [and] never let people forget."
h/t NBC News