#IfIDieInPoliceCustody Should Break Your Heart and Make You Angry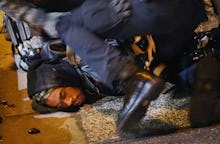 #IfIDieInPoliceCustody is trending on social media. Black people, aware that death at the hands of the police (or while under the not-so-careful watch of law enforcement) is a real possibility, are writing heartwrenching notes to their loved ones and the public avowing that if they should die in police custody, it must be known that they did not harm themselves.
This is what it means to be black in America. Black life is so precarious, so affected by state violence that black people must create a type of advanced directive to protect themselves from culpability if abused by police or killed while in police custody. None of this okay.
Just this week, two black women have died while in the custody of law enforcement. Eighteen-year-old Kindra Darnell Chapman was found dead in Alabama's Homewood City Jail on Tuesday. Authorities said she hung herself with a sheet.
Sandra Bland — the 28-year-old black woman who was stopped for a traffic violation and arrested on charges of "assault on a public servant" in Waller County, Texas — allegedly killed herself in a jail cell on Monday, three days after her arrest. Though the Root has reported she may have had depression and post-traumatic stress disorder, Bland's family contends she would not have killed herself.
Those without the experience of ever being terrorized by law enforcement while black may feel it's too early to place blame on the Waller County jail or police department. We do not know definitively what happened, but we do know one vital piece of evidence will be missing in this case — Bland's own testimony, because she is no longer able to provide her account. We do know a traffic stop has ended in death.
Public suspicion around the Bland case is not without cause. The public has reason to be wary of law enforcement evidence. Police officers lie. Law enforcement agencies also withhold information. And some police departments have horrendous records of misconduct that can shape public reaction to similar events. For example, Walker County Sheriff Glenn Smith, the authority who first spoke to ABC-7 about Bland's death, was previously suspended and then fired from his position as chief of police in Hempstead, Texas, for repeated complaints of racism, Daily Kos reports.
If Bland did die by suicide, the county and the public will still need to contend with the "why." Much will be left to speculation, but this we know: Bland was alive before she was stopped and arrested on July 10. After her encounter with law enforcement, she was dead.
As a black person, I fear what would happen if my words were pitted against that of the state. I have been in the back of an angry police officer's car after he assaulted and detained me for no other reason than an assumption that I was a criminal. I knew when I called the police department to file a complaint that my word, my evidence, would be trivialized or discounted altogether. Unlike Bland, I left my encounter alive, but there was nothing done to atone for the mistreatment — no retribution nor apology. My living testimony did not matter. Sadly, Bland's death, whether by her hand or another's, doesn't seem to matter much, either.
#IfIDieInPoliceCustody is about black peoples' understandable and rational fear of the state. It's about black people's lack of trust in the state's ability to actually protect us — especially when the state is the one hurting us. Why is this collective pain allowed to fester in this country? Is it because black life is still understood as valueless, even when life is yanked out of the black body?
#IfIDieInPoliceCustody is about black peoples' understandable and rational fear of the state. It's about black people's lack of trust in the state's ability to actually protect us — especially when the state hurts us. 
I mourn for Sandra Bland and Kindra Darnell Chapman. I say their names. Because whether they took their own lives or not, the fact remains that some time after their encounters with law enforcement, their lives ended.
To be black in America today is to live under the threat of disposability. Life can easily be snatched away. And many black people spend each day acutely aware of this reality. That is not living. That is a state of constant anguish.