7 Ways Drake Revolutionized Hip-Hop That Prove He's Already a Legend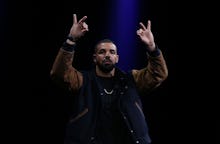 "If I die, I'm a legend," Drake told the world the day before Valentine's Day when he debuted his latest mixtape, If You're Reading This It's Too Late. As bold as that statement may be, he's not wrong. 
Few other rappers have been as consistently groundbreaking and undeniably great from album to album as Toronto's own. But with every album, Drake's had to fight like hell to get his work the respect it deserves. The Drake hater is its own species of Internet troll. "Everywhere you go, there's always someone who wants to pull you down, and even celebrity friends of mine or people that I don't know," he told Zane Lowe from Apple's Beats 1 Radio of his latest video for "Energy," in which he superimposed his face onto almost every major pop culture figure from the past 20 years. Every rising star wants a piece of his shine.
If you told a hip-hop head in '95 that a Jewish Canadian rapper who used to play a wheelchair-bound high schooler on Nickelodeon would one day revolutionize the entire genre by talking about his feelings, they would never have believed you. But that's exactly what Drake has done, and that's just the beginning.
1. He opened the genre to a much wider variety of stories.
The vast majority of the conversation surrounding Drake's rise focused on his perceived "softness." "Is Drake 'Too Soft' For Contemporary Hip Hop?" the Grape Juice asked in 2011. Big Ghost, a paragon of golden age hip-hop wisdom, continually named Drake among his annual softest rappers of the year roundups. But through the shade, Drake has managed to carve out his own lane, and in the process he's remade hip-hop in his own image.
Hip-hop's tolerance for alternative narratives has increased exponentially since Drake's breakout. Without Drake, it's doubtful rappers like Kendrick Lamar would have felt comfortable gushing his self-deprecating stories on To Pimp A Butterfly's "u," or Nas talking regret and heartbreak on Life Is Good or Future releasing an album like Honest without being afraid of being chased out of the game with pitchforks and torches.
2. He encouraged hip-hop to rethink the way it approaches women.
Drake's music pays close attention to women and their stories about trying to navigate a society that doesn't always have their best interests at heart. Kanye West called him "the first rapper to say, 'Hey, let's start respecting the women more,'" as West told 95.5 WPGC, according to BET. "He came and said, 'Wait a second, we're not just going to be like droppin' the b-word all day long because it does impact our women and take away from the idea of family.'" 
DJ Booth recently compiled a list of all the women Drake has ever discussed on his records and found a total of 129 — most with distinct personalities, or at least character traits beyond how big their asses are. Of course, some of his depictions are still problematic, as Allison Hart describes for Not Mad, calling him out for his penchant for "white knighting," or trying to "save" strippers from the bad choices they made. Drake is still operating in a historically misogynistic industry and has not eradicated that legacy from his music. Even so, he has done more to get us to think critically about how we talk about women on record than almost every other rapper in the game.
3. He proved singing and rapping could work in perfect harmony.
In 2012, Drake made the bold claim that "there were people who incorporated melody before me, but I would deem myself the first person to successfully rap and sing," he told the Jewish Chronicle. Outlets like Rap Genius were quick to point out all the rap singers he overlooked, including Lauryn Hill, Missy Elliott and Mos Def. Drake definitely wasn't the first, but he is absolutely the most successful. He turned the half-sung, half-rapped style into a fixture in mainstream radio in a way none of the aforementioned artists did. He spawned a cavalcade of direct imitators, from Kid Cudi to Future and Rich Homie Quan.
4. He revitalized the mixtape form...
Drake started from the bottom and built an empire upon the strength of a series of mixtapes. In doing so, he helped revolutionize what a mixtape can be. Back in hip-hop's early days, mixtapes were samplers of artist talent. They had low production values and relied heavily on beats jacked from already established hits. But Drake took his mixtapes far beyond that. On Comeback Season and So Far Gone, he crafted hooks, commissioned original beats and wrote intricate verses. With Drake's contributions, mixtapes "evolved from a mere display of DJ skills to a promotional tool packed with exclusive freestyles to an actual album-before-the-album, one that could spawn chart-topping singles like 'Best I Ever Had,' without labels at the helm," wrote Billboard, celebrating his achievements. 
5. ...and the album.
Critics have been eulogizing the album for years. But when Drake dropped If You're Reading This It's Too Late, his latest mixtape/album, he proved the album is far from dead. The album's cohesive sound and impeccably crafted hooks created a major buzz, which helped the album break two major records.
First, it broke a Spotify record for most streams in one day. And a week later, the entirety of the album charted on Billboard's Hot Hip-Hop and R&B charts, breaking his own record for most concurrently charting singles. He proved people are still interested in listening to albums and that the form is still a viable medium for distributing music. Kendrick Lamar's subsequent record-breaking release only reinforced this point. No one will be saying the album is dead for years to come.
6. He refined the art of the co-sign.
Drake has turned the hip-hop co-sign into a fine art. The number of artists he's helped up into the spotlight — either with a glowing endorsement, a remix or other promotional support — is truly staggering. He was one of the first to realize the Weeknd's immense talent. A$AP Rocky credits Drake for helping orchestrate his first big mainstream look. Drake got us hip to Future by remixing his breakout hit "Tony Montana," ILoveMakonnen with his remix of "Tuesday," and Fetty Wap, remixing "My Way." He gave Kendrick Lamar his biggest mainstream record to date, inviting him to rap his own solo on Take Care with "Buried Alive." No one has introduced as many new talents to new fans with as much style as Drake.
7. And he's never taken himself too seriously.
No rapper can make it from being Wheelchair Jimmy on Degrassi: The Next Generation to one of hip-hop's most respected MCs if they don't have talent. Drake always knew he could shake the spokes. And while struggling through the years of shade he received, he's always kept a sense of humor about himself. His "HYFR" video turned the jokes about his Jewishness into the most balling bar mitzvah ever. His appearance hosting Saturday Night Live in January 2014 showed some true comedic chops. He's laughed along with all the endless apps, such as Drake Shake and ifyouretypingthisitstoolate.com, that poke fun at his relatable and highly meme-able persona. Every knowing laugh only further solidifies Drake's status as one of the most influential MCs in today's digital age.