Laverne Cox Finally Met Caitlyn Jenner in Person, in Time for Jenner's Groundbreaking Show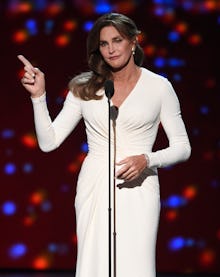 Caitlyn Jenner is gearing up for the July 26 debut of I Am Cait, the highly anticipated E! reality series following her gender transition. At a special screening for the show in Los Angeles on Sunday, Jenner finally met Laverne Cox, the transgender actress who's already played an important part in her coming out, in person for the first time.
It's hard to believe that the two had never met before this moment simply because they've both been so publicly supportive of one another. Cox, an award-winning actress who stars in the Netflix original series Orange Is the New Black, is one of the most visible transgender women in the world. It's unclear exactly what her role has been throughout Jenner's transition, but she's certainly played an important role in helping frame it to the public. In an interview with MSNBC's Janet Mock, Cox spoke about her reaction to Jenner's interview in April with ABC's Diane Sawyer (at the time, Jenner was still using the name Bruce):
During Jenner's speech at last Wednesday's ESPY Awards, where she received the Arthur Ashe Courage Award, Jenner named Cox as an inspiration. "There have been so many who have traveled this road before me, from Renée Richards, Chaz Bono, to Laverne Cox," she said.
Why this one photo matters: In her work, Cox's own sense of camaraderie shines through as she plays Litchfield Prison's stylist and confidant, Sophia, on Orange Is the New Black. In real life, however, she's shown her solidarity with other trans women like CeCe McDonald, a homeless transgender woman who was jailed for killing her attacker and palled around with her contemporaries like Candis Cayne and Janet Mock. Meanwhile, Jenner's journey shows that no one can travel the road to self-love alone. In her case, even with fame, money, and arguably the world's most visible platform, Jenner still relied on a community of big-hearted friends, family and relative strangers to guide and support her. In either case, neither of these women are strangers to the power of sisterhood.