This Woman Just Coached a Men's Pro Basketball Team to a Championship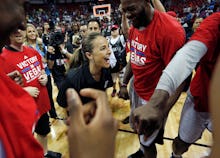 Becky Hammon is something of a basketball phenom. After starting at Colorado State University in the 1990s, she had a decorated career in the WNBA. She joined the NBA's San Antonio Spurs as an assistant coach last year. The move made her the first female full-time assistant coach in NBA history. 
And, after being named the team's summer league head coach, Hammon just made history again by becoming the first woman to coach a men's team to a summer league championship. 
It doesn't take much to see why Hammon is such an effective coach. After her team made a few mindless mistakes in Monday final game against the Phoenix Suns, she laid into them during a timeout, telling them, "Don't get too cute out here. Stay serious. Stay focused." The Spurs went on to beat the Suns 93-90. 
One player told the Guardian the team doesn't think of Hammon as any different because she's a woman: "She's the coach and we just listen."
Even with the fanfare, Hammon says she'll knows she's made real progress when she stops being called the NBA's "first female coach" and just gets to be called "coach." 
"It's always a fine line for me, because I don't want to downplay the significance of it," she told CBS News. "Because it is a big deal. But I also want it to be known that I was hired because I was qualified."
Hammon's ascension means everything. There's still a huge gap in pay and respect between men's and women's basketball. Even as late as 2012, years after the WNBA made its debut in 1997, there was still an argument — voiced by none other than the University of Connecticut's iconic women's coach Geno Auriemma, to lower the baskets in the women's game. Those arguments reek of a thinly veiled sexism. But Hammon is showing that women can do more than just play basketball. They can coach it — and win.