Why This San Francisco Pastor Is Raising Money for a Trans Woman of Color Jailed in Iowa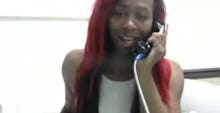 Most people don't expect to end up in jail while they're on vacation.
But that's exactly what happened to Meagan Taylor, a 22-year-old black transgender woman from St. Louis who visited Des Moines, Iowa, earlier this month. Taylor and a friend, an unnamed woman who is reportedly also transgender, were staying at the town's Drury Inn when hotel personnel called the police to report "two males dressed as females" who they suspected of possibly working as prostitutes.
Taylor studies cosmetology and was not engaged in sex work, but when cops arrived they found hormones she uses to aid her gender transition and arrested her for using prescription drugs without a prescription. Thanks to a host of other legal entanglements, including $500 in fines she owes Illinois authorities because of a previous conviction for credit card fraud at age 17, Taylor was held in jail. 
But she's not alone.
Pastor Megan Rohrer of San Francisco's The Welcome Ministry heard about Taylor's story from friends in Iowa. Rohrer, who is the first trans pastor ordained by the Lutheran Church and uses the pronoun "they," says Taylor's story is all too common. "I had just visited South Dakota and had all of the same fears [of being profiled], but nothing had happened to me," Rohrer told Mic on Wednesday. "What happened to Meagan could have happened to me."
Walking while trans: Transgender women of color in particular are so often profiled by police as sex workers that the phenomenon has even earned a name: walking while trans, which was detailed by German Lopez at Vox. A 2014 report from Columbia University showed the extent to which law enforcement tries to police gender. "LGBT people, specifically transgender women of color and LGBT youth of color, are endemically profiled as being engaged in sex work, public lewdness or other sexual offenses," researchers wrote. "Police in many jurisdictions use possession of condoms as evidence, supporting arrests for prostitution-related offenses."
Last Friday, Rohrer began crowdsourcing funds to help Taylor raise money for bond and other legal expenses. So far, the response has been overwhelming and they've raised more than $5,000. 
"When transphobia and discrimination feels so big we don't know how to fix it, sometimes raising $4,000 feels more tangible," Rohrer said. "We can support the trans community by fixing something smaller."
On Wednesday evening, however, came a positive turn of events: Taylor was released from the Polk County Jail.
"Words cannot express the way I feel to be out," Taylor told Transgender Law Center, which assisted in Taylor's case. "I want to thank everyone who shared my story, and let people know that I am going to seek justice for what they did profiling me as a black transgender woman."
h/t ThinkProgress
This story has been updated.