9 Things #BlackLivesMatter Activists Need to See Presidential Candidates Do Now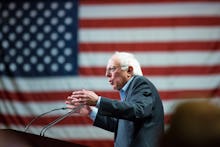 Black lives either matter or they don't. To demonstrate real concern for black lives that goes beyond earning political brownie points, politicians must fight alongside black people in the United States in our quests for equity and safety. 
This sentiment is one shared by many organizers within the movement for black lives — and it is why Democratic presidential contenders like Bernie Sanders, Martin O'Malley and Hillary Clinton have been publicly critiqued for their lack of attention paid to racial justice issues. Their subsequent use of #BlackLivesMatter on the trail can easily be seen as an obligatory nod to a popular, growing black liberation movement, full of potential voters, rather than a call for real, transformative racial, political and economic justice. 
The 2016 presidential race is happening in the heat of nationwide protests and organizing in response to frequent accounts of physical and institutional harm toward people of color in the U.S. Candidates will have to appeal to these mass, mobilized groups calling for immediate attention.
Candidates must consider how to better prepare themselves when engaging black progressive audiences, like the hundreds of black people who will gather in Cleveland from July 24 to 26 to attend the inaugural Movement for Black Lives National Convening, for example. The event, which has been endorsed and sponsored by progressive black organizations, will provide attendees a space to analyze social issues and propose solutions.  
To start, here are nine things presidential candidates can do to support #BlackLivesMatter:
1. Don't lie or sugarcoat the issues. Be honest — brutally so. 
This is not the same base of black progressives and younger voters who supported President Barack Obama in the previous elections. Too much has happened in this country — from the Ferguson uprising to Sandra Bland's mysterious death in Texas — to hold onto the audacious hope that motivated many black voters during Obama's 2008 and 2012 runs.
A lot of black and brown people are now skeptical of the state or unconvinced that the government is actually the right tool to bring about transformative justice. As a result, candidates need to not simply acknowledge but be brutally honest about the myriad issues affecting the lives of black Americans, such as disproportionate rates of policing and criminalization.
2. Say the word: racism. 
In addition to addressing the specific issues affecting people of color in this country, it's time for contenders to talk openly about the structural racism that allows these issues to exist in the first place. It's easy to condemn the racist actions of individuals, but it takes courage to actually admit white racial supremacy is as American as apple pie served on the Fourth of July.
"I want presidential contenders to acknowledge the role of white supremacy in systemic oppression," Carmen Dixon, an organizer with #BlackLivesMatter in New York City, told Mic. "Right now they won't even utter the words or acknowledge it exists. This would be a start."
Bryan Epps, executive director of the Malcolm X and Dr. Betty Shabazz Memorial and Cultural Center, echoed this sentiment. "The only viable presidential candidate for this country understands race as a systemic problem and takes action to address this in the organization of her/his campaign," Epps told Mic. 
3. Provide thoughtful policy recommendations, not platitudes. 
Propaganda is easy to spot in the midst of political races. It's one thing to use the #BlackLivesMatter slogan during a campaign and another to actually prove you believe in it by building and running on specific policy platforms that address the many barriers to black wellbeing and equity.
For one, we need a criminal justice platform that includes more than empty rhetoric of "reform." A forward-thinking, black life-loving platform would directly address issue like HIV criminalization, the policing of people living with mental health issues and over-criminalization of undocumented people of color.
Talk is cheap, but action and commitment are commendable. This is no time for platitudes. Activists want candidates who are committed to truly transformative policy platforms.
4. Rethink the definition of "safety" as something that doesn't mean "more police." 
Safety is not a synonym for policing in black communities. Too often, politicians assert a dangerous narrative of safety that centers on the need for more police, more training for existing police or more modernized weapons for police who need them to fight so-called "wars" on terror and drugs. O'Malley, for example, has been sharply criticized for his "zero-tolerance" approach to police reform during his tenure as governor of Maryland. Under his leadership, police focused on small, quality-of-life offenses as a way of curbing bigger crimes — a type of policing that inevitably leads to over-policing in black communities.
As Mychal Denzel Smith, Knobler Fellow at the Nation Institute and contributing editor for the Nation, told Mic, "It's not that people want more police. They want safety, and police are the only mechanism they've been offered to provide that safety."
5. Directly addressing the existence of the disproportionate police abuse faced by black people.
Similarly, you can't talk about building trust between police and black communities without being honest enough to name police abuse — specifically, that which targets black and brown people in the U.S. — as a national problem. Any contender who begins their dialogue on police and community relations with potential black voters without acknowledging the long history of law enforcement abuse in black communities will likely lose their audience's attention and trust.
6. Help alleviate the school-to-prison pipeline.
Contenders must advance policies that seek to demolish the school-to-prison pipeline by advocating for more funds to be invested in jobs and education for people of color. As it is, a large portion of our tax dollars is used to cover the daily costs of incarcerated persons — costs that dwarf the cost per student in schools in all U.S. states.
As organizers of the Movement for Black Lives' website note, "Black people are facing unabated police violence, increasing criminalization, a failed economic system, a broken education system and the loss of our communities to gentrification and development. Our trans and queer communities face the increased risk of physical and economic violence. The list of indignities regularly faced by the black community is long and untenable."
That is why "any presidential candidate seeking support from this newly emerging movement for black lives must implement policies that reallocate funds from policing and prisons into job creation and quality public schools in black communities across the nation," Nyle Fort, community organizer with the Maroon Project, a grassroots community organization based New Jersey, told Mic.
7. Take the lead on the development of a national police abuse data tracking system.
The U.S. is in desperate need of a comprehensive, federally managed and monitored police misconduct data tracking system. Without national data, political leaders can continue to ignore the outrage being expressed by black and brown people across the country. 
Political leaders can combat the problem of police abuse with a federally-monitored accountability system that protects black and brown peoples' rights and bodies from a law enforcement system in need of a total overhaul.
8. Spend time listening to black people.
Contenders should sit with black people in locales across the country — especially those in spaces grossly impacted by racial and economic inequality. This means attending forums that focus on issues like gentrification and redlining, environmental racism and policing in vulnerable communities; meeting with community organizers and leaders within progressive black organizations like Black Youth Project 100, Dream Defenders and the Million Hoodies Movement for Justice; and addressing policy briefs and reports developed by groups with expertise in racial justice.
Candidates should listen to the personal stories of black people in this country as often as they share their own. Peer into their faces, not as potential voters, but as human beings with real needs, hurts and desires for change. 
9. Reimagine and dream a new USA — because what we have now is broken. 
"Contenders need to acknowledge the ways in which the state should be held responsible for the continued injustices occurring within black and brown communities across the nation as well as propose solutions that will imagine a different reality in their presidency," Kleaver Cruz, an activist with #BlackLivesMatter in New York City, told Mic.
In the U.S., "we need to develop a task force that can support the creation of a black political agenda, policies that pull monies out of policing and into prisons and policies that invest monies into poor black communities," Patrisse Cullors, co-founder of #BlackLivesMatter said.
In this moment of black protest and uprising in response to police abuse, criminalization, economic disparity and educational inequity, overly rehearsed stump speeches will not win over a crowd or convince black people that presidential contenders actually care about their lives.
Candidates should talk less about vague political aims, and instead speak from the heart. Black people want to know those representing them understand their lived experiences, because we are tired of being presented with false hope and dazzling promises offered on the road to political ascendancy and the White House.