This Football Player Had the Best Response to a Fan Who Didn't Want Him to Talk About Race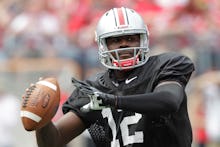 Cardale Jones became something of a household name last year when he led the Ohio State Buckeyes to a national championship as a third-string quarterback. But the attention that comes along with being in the spotlight hasn't always been positive. 
Jones, who's been criticized for his tweets before, recently took to Twitter in support of #BlackLivesMatter. "You tell me that #AllLivesMatter well I say how do you define 'All?'" 
A fan responded that Jones should focus on football, not politics. "Worry about getting us fans another championships... Stay out of this bullshit. #GoBucks" That's when Jones responded with this zinger: "Sorry Mr master, I aints allow to tweet nothing but foolsball stuff I donts want you think I more than a foots ball playa sir."
Jones' snarky response underscores an uncomfortable reality: America expects black athletes to check their politics at the door and use their bodies for entertainment and profit. Jones later blocked the user, who later apologized, as Deadspin points out. 
Making plays and statements: Just as John Carlos and Tommie Smith were the center of an iconic image making the Black Power salute during the 1968 Olympics in Mexico, more athletes are using their platform to voice their opinions on many social issues. These days, such activism comes in the form of former NFL players Chris Kluwe and Brendon Ayanbadejo campaigning for marriage equality and dozens of NBA players taking a stand with #BlackLivesMatter, for example. Jones is following suit, and showing that even in the off season, he will continue to throw some bombs.