17 Outrageous Structural Realities Black Girls and Women Face in America Today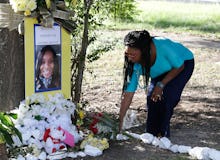 There's still no real answer about what happened to Sandra Bland in the Texas jail cell where she was found dead by asphyxiation on July 13. But with video released last week by Texas authorities, the public does have a fuller picture of the traffic stop (for failing to signal a lane change) that escalated and led to her arrest.
Bland's death exposed just some of the structural inequities faced by black women in the United States. In the conversation about Bland's arrest that emerged in recent weeks, other women have shared their own stories of violent abuse by the state. The African American Policy Forum released an updated version of its May 2015 report on police brutality against black women after news of Bland's death made headlines. 
"Although black women are routinely killed, raped and beaten by the police, their experiences are rarely foregrounded in popular understandings of police brutality," report co-author Kimberlé Crenshaw, director of Columbia Law School's Center for Intersectionality and Social Policy Studies, wrote on the group's website. "Yet, inclusion of black women's experiences in social movements, media narratives and policy demands around policing and police brutality is critical to effectively combating racialized state violence for black communities and other communities of color."
With that in mind, here are some of the underreported structural barriers facing black women and girls. 
Black women and/or girls:
* Made up more than 53% of all women stopped by the New York City police in 2013, reports the African American Policy Forum's Center for Intersectionality and Social Policy Studies at Columbia University Law School's groundbreaking report, "Say Her Name." Meanwhile, black residents as a whole make up 27% of the city's total population, according to the 2010 census.
* Face an outsized dual threat of sexual and police violence, according to a report by U.S. Department of Justice's Task Force on 21st Century Policing. More than 8% of reported police misconduct is for sexual assault, according to the CATO Institute.
* Are criminalized early in school. For example, in New York City, black girls made up 28% of the student body population during the 2011-2012 school year, but were 90% of all girls expelled that year from the city's schools, according to the "Black Girls Matter" report by the African American Policy Forum. Similarly, black girls made up 35% of Boston's public school population that same year, but accounted for 63% of all girls expelled. 
* Are highly likely to be killed by an intimate partner. In fact, intimate partner homicide is one of the leading causes of death for black women ages 15 to 35, the Dallas Morning News reports. 
* Only earn, on average, 64% of what white men earn for the same sort of work, according to analysis by the National Partnership for Women & Families; women overall, earn roughly 78% of what white men earn.
* Constituted 63% of all women diagnosed with HIV in the U.S. in 2013 and have an HIV prevalence rate that's nearly three and a half times higher than that of white women, according to amfAR.
* Were the fastest growing segment of the juvenile population in youth detention centers between 1985 and 1997, according to AAPF.
* Made up 36% of all girls in residential youth detention facilities as of 2010.
* Are disproportionately represented in the rates of murder faced by transgender women.
* Experience eviction at quite high rates, according to a policy brief from the MacArthur Foundation. Take Milwaukee, for instance: Black women there represented 9.6% of that city's population, but 30% of evictions. 
* Start businesses at six times the national average, according to the Center for American Progress, but are denied many small business loans and federal contracts. 
* Are more likely to die of breast cancer than any other racial group, according to the Centers for Disease Control and Prevention. The reasons are complex, but include the fact that black women experience delays in diagnosis and treatment. 
* Are the only group whose unemployment rate remained stagnant at 10.6%, while the overall rate for workers in the United States dropped from 7.2% to 6.1% between August 2013 and August 2014, according to a National Women's Law Center report on jobs data. 
* More than a quarter of black women live in poverty, according to the Center for American Progress, despite making up a larger portion of the workforce than white and Latina women. 
* Have increased high school graduation rates by 63% in the past 50 years, according to the National Coalition on Black Civic Participation, which would mean in the country's popular imagination that they're on track to build up more wealth. But in 2010, single black women's median wealth was just $100 compared to single white women's wealth, which was $41, 500.