The NFL's First Female Coach Already Has Quite the Football Resume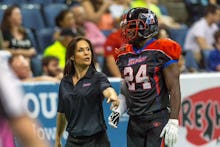 The Arizona Cardinals made history Monday when the team announced the hiring of Jen Welter as a training camp/preseason intern coaching inside linebackers. The move makes Welter the first known woman to coach at the highest level of men's football. 
Welter has a long history in football. The 37-year-old spent more than 14 years playing in women's semi-professional football leagues. She helped the Dallas Diamonds win four Women's Football Alliance titles.
Welter also became the first woman to play a nonkicking, full contact position in a men's professional football game in 2014 when she played running back for the Texas Revolution of the Indoor Football League. Pretty impressive, considering ESPN lists her as being only 5-foot-2, 130 pounds. 
She won gold medals in 2010 and 2013 at the women's IFAF Women's Championships, an international competition for women who play American football. 
Her accomplishments off the field are pretty impressive too. She earned a master's degree in sports psychology and holds a doctorate in psychology. After the Cardinals announced Welter's hiring, she expressed her excitement on Twitter:
According to ESPN's Josh Weinfuss, Cardinals head coach Bruce Arians had previously indicated that gender would not be a deal breaker for recruiting a coach. 
"Coaching is nothing more than teaching," Arians said Monday, according to the team's website. "One thing I have learned from players is, 'How are you going to make me better? If you can make me better, I don't care if you're the Green Hornet, man, I'll listen.' I really believe she'll have a great opportunity with this internship through training camp to open some doors for her."
Quiet as it's kept, women have a place in American football. It's just not given much attention. But as Jordan Ritter Conn recently wrote for Grantland, talented female football players often fall into the so-called "lingerie football trap" — a league in which its players compete in lingerie to the satisfaction of male fans (now known as the Legends Football League). Just as Becky Hammon is doing as a coach for the NBA's San Antonio Spurs, Welter's showing there's more to women in football than their bodies.