To Understand Why Designer Sneakers Are So Popular, Go Back 10 Years — to the NBA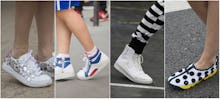 If you've got an extra $1,350 lying around and are looking for a new pair of shoes, you can grab a pair of red leather Giuseppe Zanotti high tops. 
For a few hundred less, you can shell out $860 for a pair of navy Maison Martin Margiela high-tops. Or try the Dior versions recently seen on Miley Cyrus' feet.
The most shocking thing about these sneakers might be the price tags. But what should be more surprising is the fact that designers like Giuseppe Zanotti and Maison Martin Margiela make sneakers at all.
The pairing of high fashion and sneakers is the result of a long journey of kicks from the feet of black and Latino kids in the Bronx to the runways of Milan. And that journey took a major leap on a single day, 10 years ago: 
When the NBA instituted a dress code. 
Shoes from the streets: In 2005, then-NBA commissioner David Stern instituted a widely disparaged NBA dress code, in part to calm mainstream (read: white) America's anxieties after the 2004 "Malice at the Palace" brawl between players and fans. The new dress code forbade players from wearing sleeveless shirts, chains, jeans or jewelry. 
"It was damage control," Etan Thomas, a nine-year NBA veteran who played for the Washington Wizards at the time, told Mic. "A black man in a suit is a little less threatening than a black man in sweatshirts, and players had no choice but to comply because you'd get fined." Thomas says he was fined for violating the dress code once, though he doesn't remember what for or for how much ("I think I wore a hat or something," he said). 
It wasn't just sweatshirts that the players were wearing. They rocked baggy jeans, hoodies, doo-rags and headbands that were big in hip-hop at the time. They were dressing, in short, closer to the aesthetic originally associated with sneakers, a decades-old fixture of black and brown communities. 
The short history of sneaker culture goes something like this: At the beginning of the 20th century, companies like Converse and Keds engineered revolutionary rubber soles for athletic shoes. The shoes were mostly relegated to sportswear until about the 1970s, when black and Latino kids in the Bronx and other New York City boroughs began wearing them while breakdancing and rapping about, among other things, basketball.
"Sneakers were a way for people of low-income areas to establish some type of wealth or superiority," Elliot Curtis, co-founder of Sneakerology, the world's first college accredited course dedicated to sneaker culture, told Mic. "They were never considered fashion in the way that women wear makeup or have handbags."
"Sneakers were a way for people of low-income areas to establish some type of wealth or superiority... they were never considered fashion."
When hip-hop exploded from the streets of the Bronx to the mainstream in the 1980s, rappers like Run-DMC made them a must-have item. Sneakers, especially those associated with basketball, like Air Jordans or Nike Dunks, came to be synonymous with hip-hop — and, by extension, black culture — on a new scale. 
Just as with hip-hop music, big companies eventually came calling. In 1985, Nike rolled out a multimillion-dollar marketing campaign to promote its Air Jordan line, which has gone on to dominate over the past thirty years. Athletic sneakers from the likes of Nike, Reebok and Adidas only became more popular from there.
"It's hard to underestimate the power of the cultural force the sneaker industry found in the lifestyle of black inner city kids, which those companies marketed to white children across the suburbs of America," wrote David Turner for Paper. 
Much of that marketing happened via the NBA.
Basketball meets the fashion world: By the late '90s, the sneaker business was massive and only growing. So it's no surprise that the fashion industry started taking note. 
"Designer sneakers" were barely a concept at that point, however. In 1996, according to CNN, Prada became the one of the first high-end designers to debut a sneaker, the rather uncool Prada PS0906 that bore little resemblance to the Air Jordans on young people's feet.
Slowly and sporadically, more sneaker styles would pop up on designer runways for the next few years, such as Yohji Yamamoto's collaboration with Adidas, called Y-3, in 2003. But the influence was fairly one-sided, with sneakers casting hip-hop cred onto fashion collections. "I wanted to work with sneakers as a way of getting back to the street," Yamamoto told the Independent plainly. 
Then in 2005, the NBA dress code arrived, and it brought with it an unintended effect: turning black athletes into some of the most fashionable male celebrities.
"It was like, 'OK, now we got to really dress up and we can't just throw on a sweat suit,'" Miami Heat star Dwayne Wade told the Associated Press:
"Then it became a competition amongst guys and now you really got into it more and you started to really understand the clothes you put on your body, the materials you're starting to wear, so then you become even more of a fan of it." 
Since then, it's become common to see the league's biggest stars at fashion shows and in countless GQ photo shoots. Oklahoma City Thunder guard Russell Wilson teamed up with Barney's for a line of expensive sportswear (a blue mesh tank top costs $135), while Golden State Warrior guard and reigning MVP Steph Curry is now the face of Express Men. LeBron James produced his first ever NBA fashion show this year. 
"Today's most fashionable players, who are teaming up with luxury brands, flying overseas for fashion shows and releasing personal product lines that make sneakers seem quaint, do not see themselves only as extremely tall male models; they see themselves as fashion icons," wrote Andrew Keh in the New York Times in February.
The change trickled outside of the locker room. "At first it was met with a lot of negative feedback ... but it had an impact on urban aesthetic," Curtis, of Sneakerology, told Mic. "It became more socially acceptable for men to be more into high fashion."
That impact included completing the transformation of sneakers into a truly high-fashion item. 
In the years since the NBA dress code, about every fashion designer has at least one high-end sneaker, and the trend has only exploded in the past two years. Sneakers are now a "must-have shoe," according to fashion magazines. "While gym shoes have been popular for decades with urban fashion sets, high-end fashion designers from across the world are embracing the trend," is how Forbes put it in 2014. And as Vogue noted earlier this month, "This Couture Sneaker Trend Is Showing No Signs of Slowing Down."
Bringing things full circle, NBA players like Wade and Dallas Mavericks star Chandler Parson are now collaborating not with Nike and Reebok, but with high-end designers like Alejandro Ingelmo and Del Toro, respectively. 
Nowhere is the shift from street culture to fashion more evident than in the Brooklyn Museum's new exhibit, "The Rise of Sneaker Culture." In his review of the exhibition, David Turner noted in Paper, "Instead of the latest LeBrons, KDs, Adidas or even some of the throwbacks done recently by Reebok, the final shoes are higher end collaborations with designers like Raf Simons, Jeremy Scott and Rick Owens." 
The increasingly stylish, dress code-adhering NBA isn't entirely responsible for fashion's embrace of sneakers — after all, the massive sneaker business is itself a huge incentive for fashion designers. But the merging of fashion and the NBA, the birthplace of the modern sneaker, helped cement the connection, making a shoe with such distinct heritage make sense in such a different world.
Yet something special may still remain for sneakers that keep their athletic — and hip-hop — roots, even 10 years after the NBA dress code. Designer Jeff Staple put it this way on The Monocle Weekly podcast earlier this month:
"This is why Gucci and Prada sneakers likely will never be as covetable as Nike Jordans or Adidas: It's because sneakers mix all these different other subcultures into the fabric of their shoes, and when I say fabric I mean the soul of their shoes. Obviously sport is there... and they're inspired by high fashion, they're inspired by music, they're inspired by technology and performance, which has to go into a sneaker, and of course the sport itself. So you've got all these different cultures into this one product."
Designer sneakers are "just inspired from high fashion, couture, runway. There's no element of sport, technology, hip-hop, current trends, social media. There's none of that other stuff. ... But sneakers have this other thing, where it's a petri dish of all this other culture. 
And I think that's why those sneakers really win."