Meet Mister Terrific, TV's First Black Gay Superhero, on 'Arrow'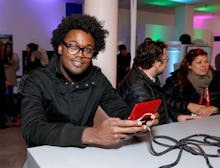 Some longtime DC Comics fans were in for a treat this week after it was announced that the television series Arrow had cast actor Echo Kellum to play an openly gay version of Michael Holt, also known as Mister Terrific, a black superhero. Introduced in 1997, Mister Terrific is a genius millionaire with 14 doctorate degrees and a gold medal in the Olympic decathlon. 
Mister Terrific joins openly bisexual Sara Lance (Canary, played by Caity Lotz) as the show's queer characters, part of a deliberate effort by its creators to introduce LGBT characters into the world of TV superheroes. Series co-creator Greg Berlanti, who is also openly gay, said as much earlier this year to the Advocate. "The network has been very welcoming and they realize the younger generation doesn't really have issues with that kind of stuff," he says. "They don't really see [being LGBT] as a negative. There's a lot more understanding, openness and compassion around this issue today and that's a great thing."
Diversity in comics: In recent years, comics have become noticeably more diverse. In the print series, Spider-Man is now Miles Morales, a biracial black and Latino 15-year-old boy, and Ms. Marvel was recently portrayed as a Muslim-American teen Kamala Khan. As Michael J. Smith, a professor of communications at Wittenberg College, wrote for the Washington Post in October:
As much as we malign the mass media (and who could be more a part of the mass media than Marvel's parent company of Disney or DC Entertainment's, Time Warner), particularly for their frequent shortfalls when it comes to recognizing and representing the diversity of our culture, those creative forces now calling the shots within these corporations may be on to something with this line-up of films. It would have been safer to have filled these slates with even more white, male superheroes, given the public's appetite for them. But appetites do change with time, and perhaps both Marvel and DC have figured out that the highly diverse fan community will be looking for a wider palate of superheroes to admire — at least by 2017.
You can see Mister Terrific in action on the fourth season of Arrow, which begins Oct. 7 on CW.