Kelly Osbourne Tried to Joke About Donald Trump's Racism and Failed Miserably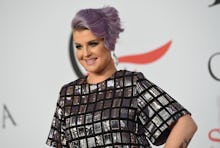 On Tuesday morning's episode of The View, Kelly Osbourne tried to joke about Donald Trump's racist, anti-immigrant remarks, but failed when she fell into some racist rhetoric of her own. 
Specifically, Osbourne said: "If you kick every Latino out of this country, then who is going to be cleaning your toilet, Donald Trump?"
View co-host Rosie Perez immediately fired back, saying, "There's more jobs than that in the country for Latinos and Latinos are not the only people who clean toilets." 
Osbourne backed away from her initial words — "You know I didn't mean it like that. I'm not part of this argument" — but the backlash was already under way. On Twitter, viewers reacted with outrage:
A new hashtag even popped up to take Osbourne to task: #QueridaKellyOsbourne.
Even though Perez stood up for Osbourne, saying that she misunderstood her point, that hasn't done much to calm the storm on social media.
Later on Tuesday, Osbourne apologized for her words, and said she cleans her "own fucking toilets." 
Osbourne made headlines earlier this year for firing back at former Fashion Police co-host Giuliana Rancic, who made a racially loaded remark about actress Zendaya at the Academy Awards. 
But as of this writing, Kelly Osbourne is still a trending topic.
August 4, 2015, 5:07 p.m. EST: This story has been updated