Listen to How Langston Hughes Nailed Our Problem With Police Brutality 77 Years Ago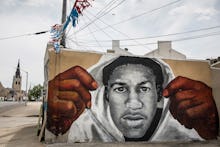 Wednesday marks one year to the day since 22-year-old John Crawford III was shot and killed by a Beavercreek, Ohio, police officer in a Wal-Mart store outside Dayton. His death was one of many that helped put police violence in black communities on the nation's radar, which eventually lead President Barack Obama to call police shootings a "crisis" last spring. 
That level of urgency spurred a new video released Wednesday on YouTube by Color of Change, in which Danny Glover recites his favorite poem, Langston Hughes' 1938 "Kids Who Die." Though the poem was published generations ago, it still offers a bit of much-needed historical context to the issue by reminding others how violent police interactions with people of color is certainly nothing new. 
Media consultant Frank Chi, who co-produced the video with Terrance Green, said they "wanted to make a video that brings together the brutal images of the past year — seeing Eric Garner choked to the ground, Walter Scott shot in the back, Sandra Bland dragged out of her car over a cigarette — but display them in a way that pays tribute. We wanted to inspire people to keep fighting." 
"I first read 'Kids Who Die' the night the George Zimmerman verdict came down in July 2013. It made the rounds that night on Twitter and it never left me," Chi wrote in an email to Mic. 
"Movements," he added, "need art to keep the spirit alive."
Chi said Glover was a friend of a friend who heard about the video project and got excited because "Kids Who Die" is one of his favorite poems. 
The poem is a painfully resonant call to action. Hughes describes the brutally oppressive systems that kill children of all races: organizing in segregated Mississippi, violence in Chicago, working in the orange groves of California. "But the day will come," Hughes writes, "When the marching feet of the masses/ Will raise for you a living monument of love."
Indeed, that's what's been happening with the ascendence of #BlackLivesMatter, which has rallied around those taken too soon, their families and those calling for accountability and change. "Just last week, Movement for Black Lives activists chanted Kendrick Lamar's 'Alright' through the streets of Cleveland," Chi told Mic. "Terrance and I are humbled to present our contribution, and we hope people find it valuable."
Read the full poem below.
Kids Who Die by Langston Hughes
This is for the kids who die,
Kids will die in the swamps of Mississippi
Of course, the wise and the learned
Listen, kids who die —
But the day will come —