A Ferguson Syllabus: Reading a Movement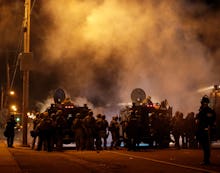 Sunday will mark the one-year anniversary of the death of Mike Brown Jr., the 18-year old black teenager who was fatally shot by 28-year old Darren Wilson, a white police officer, in Ferguson, Missouri. Brown's killing — and the subsequent public display of his lifeless body left bloodied and uncovered on a tiny street before his family and neighbors — was a fulcrum igniting a sustained uprising. 
Ferguson, like Brown's name, appeared as hashtags in social media over the last 12 months, building upon a growing outcry for the need for contemporary black protest. Names like #MikeBrown, #RekiaBoyd and #EricGarner and movement themes like #HandsUpDontShoot, #SayHerName and #ICantBreathe signify the same idea: Black lives matter and are worth fighting for, regardless of the reason black people end up opposite a police officer's gun. 
This present movement for black lives was catalyzed by people's willingness to fight for black life and well-being. It has also raised the consciousness of so many in the United States and the world as it relates to anti-black racism, police misconduct and other forms of state-sanctioned violence. There are lessons to be learned, especially from the perspectives of the black people who spent many days organizing and demonstrating in the sweltering streets of Ferguson. 
Here are some essential readings from several astute activists, journalists and writers that have inspired, angered and challenged readers everywhere this past year. While this is in no way an exhaustive list, the following offers insider and outsider views of Ferguson, pushing all of us to consider the radical spirit and collective beauty illuminated in mass mobilized protests. 
From the Mouths of Ferguson Activists 
"Black Lives Will Matter When Our Tragedies Turn to Triumph: Let Ferguson Be a Start" by Ashley Yates, Huffington Post
"Ferguson resonated with so many people because Ferguson really is everywhere. The economic assault via government schemes, police brutality and culpable leadership are dynamics that play out across the globe." — Ashley Yates  
"When I Close My Eyes at Night, I See People Running From Tear Gas" by Johnetta Elzie, Ebony
"His blood on the ground cried out to us. His blood was the call to action." — Johnetta Elzie
"Young Ferguson Protestor: It's Bigger Than Us" by Audie Cornish (interviewing Brittany Ferrell), NPR
"I do feel like Ferguson is going to be a very historical moment. It's going to be something that's going to be talked about 50 years from now because we weren't prepared for this. We were thrown into it." — Brittany Ferrell
"I've Spent More Time in Jail Than Darren Wilson" by Alexis Templeton, Ebony
"My family members could not understand the purpose behind my arrests. They still cannot fathom how I was detained for peacefully protesting, yet Darren Wilson was not detained for killing an unarmed 18-year-old young man and still remains free." — Alexis Templeton
"St. Louis Rapper Tef Poe Describes the Scene on the Ground in Ferguson, Missouri" by Tef Poe, Noisey
"And we need the prayer, we need the marches, but the police state won't de-escalate if we don't confront it, so a lot of the young people have been finding ways to confront it and expose it rather than go home at night and let them have their way." — Tef Poe
"The Fight for Justice is Our Job" by Larry Fellows III, Ebony
"For the first few weeks of protests, all I wore were t-shirts and basketball shorts because I wasn't always able to get home. Protesting took a lot of my time and energy not only physically and emotionally but mentally." — Larry Fellows III
"The Lost Voices of Ferguson" by Nyle Fort, Urban Cusp 
"While the Lost Voices have received little to no mainstream media attention, they represent the heart of a burgeoning community-based movement primarily organized by youth. The group formed the night of Michael's murder. And they've been camping out in a vacant parking lot ever since." — Nyle Fort 
"An Open Letter From Ferguson Protestors and Allies" by DeRay Mckesson, Brittany Packnett and Johnetta Elzie, Huffington Post
"In this American town, officers tapped their batons, pointed guns in our faces, kneed our women's heads, threw our pregnant mothers to the ground, jailed our peaceful clergy and academics and tear gassed our children." — DeRay Mckesson, Brittany Packnett and Johnetta Elzie
The Fire This Time Is Blazing in Ferguson 
"Ferguson on Fire" by Jamilah Lemieux, Ebony
"How much more do you need to see? How much more do you need to know? How long can it be expected that Black people exist in this country with the boot of White supremacy firmly on our necks?" — Jamilah Lemieux 
"In Defense of Black Rage: Michael Brown, Police and the American Dream" by Brittney Cooper, Salon 
"We are talking about justifiable outrage. Outrage over the unjust taking of the lives of people who look like us. How dare people preach and condescend to these people and tell them not to loot, not to riot?  Yes, those are destructive forms of anger, but frankly I would rather these people take their anger out on property and products rather than on other people." — Brittney Cooper 
"Ferguson Rapper Tef Poe: Barack Obama Has Forsaken Us, But We Will Not Stop Fighting Injustice" by Tef Poe, Time
"We're in a highly combustible powder keg that could blow at any moment. The city is overflowing with civil unrest and we simply want answers for the many wrongdoings that have been committed against us." — Tef Poe
"The Fierce Urgency of Now: Why Young Protesters Bum-Rushed the Mic" by Kirsten West Savali, The Root
"Business as usual is the refusal to acknowledge that the primary function of peaceful protests is to allow some white people to feel safe in the face of black rage. Business as usual is to hold a march on the nation's capital against police brutality and not mention the name of one black woman who has been killed by police." — Kirsten West Savali
"Demanding 'Perfect Mourners' in Ferguson" by Jamil Smith, MSNBC 
"On cue, Ferguson must mourn and be perfect in the face of provocation, of triggers of every definition. Riot gear cannot break the concentration, nor can a shove or pair of hog-tie handcuffs. Not one plastic bottle can be thrown at a law enforcement officer." — Jamil Smith 
"What Matters in Ferguson" by Mychal Denzel Smith, The Nation 
"Michael Brown was shot and killed by an officer of the Ferguson, Missouri, police department. Everything else is irrelevant." — Mychal Denzel Smith 
"Why Are White People Scared of Black People's Rage at Mike Brown's Death?" by Rebecca Carroll, The Guardian
"That cop in Ferguson saw what he was looking for: a big, black, dangerous man, because that's what white people learn to see. And no amount of 'us' behaving better is going to change that calculus for white people: white people have to change it themselves." — Rebecca Carroll
"Why We Won't Wait" by Robin Kelley, CounterPunch
"The Black community of Ferguson and adjacent communities experience war every single day, in routine police stops, fines for noise ordinance violations (e.g., playing loud music), for fare-hopping on St. Louis's light rail system, for uncut grass or unkempt property, trespassing, wearing "saggy pants," expired driver's license or registration, "disturbing the peace," among other things." — Robin Kelley 
The Movements Within the Movement
"Black Freedom Fighters in Ferguson: Some of us Are Queer" Darnell L. Moore (interviewing Ashley Yates and Larry Fellows III), The Feminist Wire 
"It has been personally challenging for me to assert that queer people be included in a movement in which so few are visible, but I believe that by simply doing the work and existing as a bisexual black woman my visibility will show others that there is a place for them." — Ashley Yates
"#FergusonFridays: Not all of the Black freedom fighters are men: An Interview with Black Women on the Front Line in Ferguson" by Kristin Braswell (interviewing Brittany Ferrell, Ashley Yates, Zakiya Jemmott, and Johnetta Elzie)
"Gender inclusion is a major issue that we have all faced since our involvement. When we go out to protest or even speak at town hall meetings there is a lack of support from a majority of the men and we are treated as if we're invisible and haven't been the most vocal since the movement mobilized." — Zakiya Jemmott
"Women Find Their Voice in Ferguson Protest Movement" by Matt Pearce, Los Angeles Times
"Several young women involved in organizing the Ferguson protests have described similar encounters with a gender barrier: men bowling them over at meetings or not inviting them to help make decisions. The media, they said, also tended to focus on the guys, who sometimes delivered more inflammatory sound bites — about, say, the likelihood of a riot." — Matt Pearce 
"Which #BlackLivesMatter? The Killings No One's Talking About" by Emma Margolin, MSNBC
"And yet, despite these high rates of violence, no slain transgender woman of color has ever received the same level of attention as Trayvon Martin, Michael Brown or Eric Garner – a fact that has caused some to wonder whether the Black Lives Matter movement would more aptly be titled, 'Cisgender Black Male Straight Lives Matter.'"  — Emma Margolin  
"The Women of #BlackLivesMatter" by Noah Berlatsky (interviewing Johnetta Elzie), The Atlantic
"There are many wonderful black women who made the civil rights movement move, but you don't know their stories. You have to go dig for them. You really have to do your research to find out who Ella Baker is." — Johnetta Elzie 
Ferguson is America
"Opinion: Washington Needs to Tell the Truth About Police Violence" by DeRay Mckesson, Washington Post 
"The America I once knew simply does not exist. We must build an America that lives up to our ideals – our lives depend on it." — DeRay Mckesson
"The Clergy's Place is with the Protesters in Ferguson" by Osagyefo Uhuru Sekou, Al Jazeera America 
"Ferguson is just one link in an entire chain of global phenomena."  — Osagyefo Uhuru Sekou 
"It's Time to Focus on the Other Fergusons in America" by Donovan X. Ramsey, The New Republic 
"The prevalence of police brutality has long demanded federal intervention." — Donovan X. Ramsey 
"Get on the Bus: Inside the Black Life Matters 'Freedom Ride' to Ferguson" by Akiba Solomon, Colorlines 
"More than 500 of us have traveled from Boston, Chicago, Columbus, Detroit, Houston, Los Angeles, Nashville, Portland, Tucson, Washington D.C., Winston, Salem and other cities to support the people of Ferguson and help turn a local moment into a national movement. Many of us raised money for the trip using GoFundMe." — Akiba Solomon  
"Ferguson Is America and the Time to Act Is Now" by Rashad Robinson, The Root
"A growing new civil rights movement is pointing the way. Now we need the president to listen, and to act." — Rashad Robinson