The Fox Debate Is Evidence the GOP Does Not Think Black Lives Matter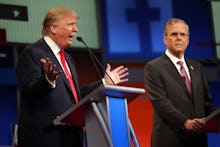 If Fox News' Republican presidential primary debate was anything beyond theatrical punditry, it was also an indication of the gaping distance between the world of the GOP and that of black America.
The debate was a political spectacle largely organized around the almost comical centering of Donald Trump as the most visible and contentious candidate, alongside a homogeneous, all-male panel of presidential hopefuls.
Notably, this debate was held at the Quicken Loans Arena in Cleveland. Just two weeks ago, thousands of black people attended the Movement for Black Lives in Cleveland where they convened to discuss the many serious systemic issues negatively impacting black Americans today. How is it possible for politicos interested in serving in the country's highest elected office to show up in the same city and speak little to nothing about racial injustices, especially when race has been the most talked-about political issue on social media outlets, like Facebook, for the last several months?? 
How could any presidential hopeful speaking before a massive Cleveland crowd do so without mentioning the name of Tamir Rice, a 12-year-old black boy shot dead by a Cleveland police officer in November, or acknowledge the prominent movement against police abuse and state-sanctioned violence impacting black people in this country unless they do not care about black lives or black death? 
In fact, the only Republican hopeful who fielded a direct question on race relations and police brutality onstage Thursday was Wisconsin Gov. Scott Walker, who gave a measured answer about police training. Why not Gov. John Kasich of the very state where Rice was slain?
Why no mention of the white racial supremacist who shot dead nine black parishioners at Mother Emanuel in Charleston?  
Where was the call for police reform in a time when even young white unarmed teens, like Zachary Hammond in South Carolina, can be killed by police?
And the moment Carson, the only black person on the stage, admitted his lack of attention to race discourse had to do with his expertise in neuroscience and not race, the nail was jammed into the proverbial coffin. One can only surmise the GOP ardently believes racism does not exist, as captured in a message from the Republican National Committee declaring racism a thing of the past: 
The GOP cannot be serious about attracting black voters if it blatantly disregards the needs of black people and avidly supports policies that disenfranchise black Americans, as well as women, LGBTQ people and undocumented immigrants. Ignoring the criticisms of voters across the country involved in a mass mobilized movement will not benefit candidates on either side at all, especially as more Americans are realizing how racism is, in fact, far from being solved in this country.