One Year After Mike Brown's Death, His Peers Are Still Targets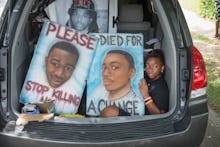 On Sunday, hundreds of people packed the streets of Ferguson, Missouri, to mark the year since Mike Brown, an unarmed 18-year-old black man, was shot and killed by Darren Wilson, a white police officer. Brown's death was a watershed moment in the movement to end police brutality in black communities and was followed by weeks of unrest on the streets of his hometown. The anniversary to commemorate Brown's death was also marked by violence when Tyrone Harris, 18, was shot and critically wounded by police Sunday night.
There still aren't many details of the shooting, but here's what we know: Harris was wounded after a suspect reportedly fired gunshots at four St. Louis County police officers in an unmarked police vehicle on West Florissant Avenue, which was made infamous by last year's uprisings. Harris has not been identified as the shooter and remains hospitalized as of Monday afternoon. 
The shooting was already a tragic turn of events on the anniversary, but Harris' father told reporters that his son went to the same high school as Brown, and the two were friends. The revelation put into sharp focus the fact that being a young black man in Ferguson is a serious risk factor for violence.
First, Normandy High School, where Brown and Harris attended, is an underperforming school riddled with dysfunction and known for violence, underperforming teachers and impoverished students. When it comes to criminal justice, systemic inequality was so bad in Ferguson that the Department of Justice stepped in to study it. As cited in the DOJ's report, black teenagers were apprehended by Ferguson police fairly often, who used excessive force to confront or arrest them. 
Additionally, black residents of the St. Louis suburb were targeted in 88% of all cases of reported extraneous force by Ferguson police from 2010 to 2014. The report went even further, describing in detail how racial inequality played out on nearly every stage of the municipality's justice system. African-American residents in the city made up 85% of vehicle stops, 90% of citations and 93% of arrests made by Ferguson police officers. Those residents were also 68% less likely than others to have their cases dismissed by courts. Those facts led the DOJ to conclude that "Ferguson's law enforcement practices are shaped by the City's focus on revenue rather than by public safety needs."
"The mindset is still that it's normal to have the police stop African-Americans and harass us and shake us down," Phil Gassoway, a Ferguson resident, told the New York Times. "That's the norm — still is. There's no change nowhere."
The damning assessment led to some superficial changes, notably the hiring of a black police chief and city manager, but both hires are interim. 
"A new city manager and police chief don't make changes people can feel and experience," said Pastor Tommie Pierson of Greater St. Mark Family Church, according to CNN. "When the talk becomes reality then we'll stop."
A great divide: The split between law enforcement and black Americans extends beyond Ferguson. Despite making up just 13% of the population, black people across the United States accounted for 31% of fatal police shooting victims in 2012, according to an analysis of FBI data. One year after Brown's death, unarmed black men nationwide are still seven times more likely than whites to die by police gunfire, according to the Washington Post. 
But the scourge of gun violence isn't limited just to interactions with police. Nationally, gun violence has had a profoundly devastating effect on young people of color. In 2010, gun violence accounted for 83% of homicides, the second most frequent cause of death for young people between the ages of 15 and 24, according to a report from the Center for American Progress. According to the same report, a young black man is nearly five times more likely to be killed by a gun than a young white man. 
Why this matters: Brown's death became national news because it an extreme example of the everyday challenges faced by young black people in this country. We shouldn't be surprised that so little has changed in the year since his death, but we should use the violence that happened before, during and after it as proof that his demise was not an isolated event.