Two Years Later, Black Lives Matter Faces Critiques, But It Won't Be Stopped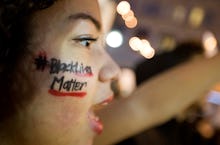 Black Lives Matter is not perfect. Yet it shoudn't have to be to have an impact as a social movement. It's nascent. It's organic. And the work can be messy. To truly understand Black Lives Matter's virtues and limitations, we must take into account its origin story and purpose. We must provide a fair assessment of a project that, in a short span of time, has awakened another generation of black activists.
Yet, shortly after Mara Jacqueline Willaford and Marissa Johnson — two activists associated with Black Lives Matter, Seattle — disrupted a large rally at Westlake Park in Seattle, preventing Sen. Bernie Sanders from speaking on Saturday, some critics cited the action as evidence of Black Lives Matter's ineffectiveness.
Regardless of the merits of this individual action which, among some, are still up for debate, one isolated incident cannot be the basis of judgment for the movement as a whole. Black Lives Matter is still in its infancy, which has confused some who are trying to understand what it is and is not. 
So what is Black Lives Matter?
Black Lives Matter is a radical social intervention. Many people know that Black Lives Matter was created by three black women — Alicia Garza, Patrisse Cullors and Opal Tometti — after a Florida jury acquitted George Zimmerman in July 2013 in the fatal shooting of 17-year-old Trayvon Martin in Sanford, Florida. 
Some are even aware that the political vitality of Black Lives Matter has much to do with the worlds from which the women emerged: all are U.S.-based black feminists, all are seasoned organizers, Cullors and Garza identify as queer, and Tometti is the daughter of Nigerian immigrants. The trio has harnessed what began as a social media hashtag and turned it into an activist network.
But Black Lives Matter is not black freedom work as many have come to know it. The narrative of this movement's beginnings counter the typical origins of black leadership, which are often personified via cisgender, heterosexual black men. If people were looking for a remake of Martin Luther King Jr., Jesse Jackson or Al Sharpton, they'd be disappointed, and rightfully so.
Black Lives Matter represents a move from a singular political organizing centered on racial justice to an intersectional agenda. Justice as imagined by its organizers is not only about ending anti-black racism. Visions of true justice must include freedom for black people who are queer, transgender, formerly or presently incarcerated, undocumented or facing any number of other challenges. These ideological shifts spurred by Black Lives Matter should be counted as examples of success.
In just two years, what began as a call to action over social media morphed into an international push to end the various forms of institutional and physical violence negatively impacting black people and ending black lives. 
The burgeoning movement: Cullors and I co-organized the #BlackLivesMatter ride to Ferguson in August 2014 in response to the killing of Brown by officer Darren Wilson. More than 500 people traveled from across the United States and Canada to provide various forms of support to the activists on the ground in Ferguson. Those who traveled with us represented a new and diverse contingent of black activists. We weren't all the same age, nor did we share the same political viewpoints. We weren't all heterosexual or documented or free from past involvement with the criminal justice system. Some of us were transgender, disabled or bisexual. 
Given Black Lives Matter's almost fluid nature, critics often wonder how it can be effective without a more formalized structure. For example, Bruce A. Dixon at the Black Agenda Report wrote after Saturday's disruption of Sanders, "Some better questions are whether #BlackLivesMatter is really anything like a peoples movement aimed at changing society and lives for the better, or is it the private vehicle of its co-creators who get to take it where they decide to go? To whom are #BlackLivesMatter's leaders accountable, and just where are they taking their 'movement'?"
The answers to Dixon's questions can be found among Black Lives Matter activists. Black Lives Matter is a collective project, not one overseeing organization. Today, many of those who participated in the ride comprise any of the 26 #BlackLivesMatter chapters across the country, each focused on the needs of their communities. While there is a small group of people who provide support to the local chapters, #BlackLivesMatter as a network is decentralized. This is not a movement where a sole leader reigns from on high. 
Work is often done in collaboration with other local groups, which combine to shape the national focus. "Chapters work within the communities where they live and work. They determine their goals and the strategies that they believe will work best to help them achieve their goals," Cullors told Mic. "We are deliberately taking a cautious and collaborative approach at developing a national Black Lives Matter strategy because it takes time to listen, learn and build."
So there is indeed accountability. Black Lives Matter members are accountable to their communities, each other, the network or communities and the larger movement for black lives as a whole. Even with a loose framework, the #BlackLivesMatter network is still strategic.
Looking to the future: It takes time to reimagine a world free from anti-black racism, sexism, transmisogyny and economic disenfranchisement and to envision what policies, practices and spaces are necessary for black people to thrive. It takes courage to stage a public disruption or act of civil disobedience, but often that is the only type of work the public might see. The harder work is that which occurs before and after public acts of protest. It also takes tenacity to do all of this work without being bought by political machines or donors.
In an August 9 public statement on its Facebook page, the organization said, "At this time, #BlackLivesMatter does not endorse any presidential candidate. Moreover, we are not affiliated with a political party. Our work is not funded or driven by any political party nor is it influenced by local or national candidates."
Across the country, Black Lives Matter organizers are meeting regularly, developing locally informed strategies across a range of policy areas, engaging stakeholders and community members, and committing themselves to healing justice in service to black people. Black Lives Matter is not a vehicle for political candidates or a faux political action committee doing the bidding of vested parties. That's why activists might disrupt a presidential contender's speech, even if they might suffer reproach by those who also claim that #BlackLivesMatter. 
In the network, there is space for differences of opinion and space for celebration and continued learning. The work can only be effective, however, if the tactics and strategies activists employ are organized around a shared vision and set of outcomes.
If #BlackLivesMatter needs to do anything, it must continue its deliberate approach to building a community of organizers who posses a shared strategy. Movements need moments like the demonstration Saturday as a reminder of this need for focus. And ultimately, black America needs a movement for black lives.
The question we must collectively respond to, however, is, what type of world do we want moving forward? Black Lives Matter is one of many vessels today helping us to figure that out, and that work is a win.