One Ferguson Protester's Tweet Exposes a Heartbreaking Truth About Black Women in America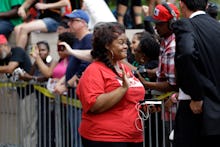 Johnetta Elzie, 25, is well-known on Twitter. The St. Louis resident rose to prominence last year in the aftermath of the Ferguson, Missouri, uprisings following Mike Brown's murder and has since gained thousands of Twitter followers by documenting the movement to end police violence nationwide. But on Monday, Elzie was among dozens of protesters who were arrested during protests in downtown St. Louis on the steps of a federal courthouse.
Elzie was one of several high-profile protesters who was taken to jail Monday, including Twitter activist DeRay Mckesson and scholar Cornel West. According to the St. Louis Dispatch, protesters would be issued summonses and then released. But it was the tweet she sent just hours before her arrest that exposes the heartbreaking reality of being a black woman in America's jails and prisons:
Elzie's tweet speaks to still-relevant concerns surrounding the death of 28-year-old Sandra Bland, a black woman who was arrested after a controversial traffic stop and found hanging in her cell three days later. Bland's death was ruled a suicide, and while suicides in county jails are on the rise, according to federal Bureau of Justice statistics, Bland's family and a growing community of supporters dispute she ended her own life. Though Bland had reported a suicide attempt earlier this year, Bland's mother Geneva Read-Veal told MSNBC's Al Sharpton that her daughter's "spirits were lifted spirits, she was excited about the next chapter in her life." The FBI is now investigating Bland's death.
More to the point, Elzie's tweet underscores the mistrust between people in police custody and law enforcement. Time and again, the public has seen vivid video evidence come to light that dramatically counters official police statements on fatal encounters with black citizens. In North Charleston, South Carolina, former police officer Michael Slager claimed he had struggled with a black man named Walter Scott before resorting to deadly force. Days later, video evidence showed a callous shooting in which Slager shot Scott several times in the back. Slager was later arrested and charged with Scott's murder. A similar scenario played out last month when Cincinnati police officer Ray Tensing was shown on video shooting Sam DuBose, an unarmed black man, in the head during the traffic stop, contrary to initial police reports. 
As Monday evening approaches, authorities have declared a state of emergency in St. Louis County.