Police Took an Arrest Selfie With a White Guy. Here's What They Did to a Black Woman.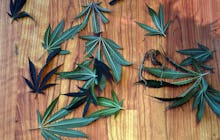 Marijuana can make people do outrageous things — that apparently also applies to the law enforcement officials who arrest people for alleged possession of it. Back in June, Charnesia Corley, a 21-year-old black woman, was pulled over in Harris County, Texas, by a sheriff's deputy for allegedly running a stop sign. The arresting officer, whose name has not been released, told Corley to exit her car because he smelled marijuana coming from inside. When no signs of marijuana turned up upon inspection of the vehicle, he called a female officer to the scene to perform a vaginal search.
According to local news affiliate KTRK, Corley said she hesitated, but law enforcement report that she resisted.
"I bend over and she proceeds to try to force her hand inside of me," Corley told KRTK. "I tell her, 'Ma'am, No. You cannot do this.'" 
Corley was arrested for resisting arrest and possession of marijuana. It's not clear where the .02 ounces of marijuana police reported finding was located. Corley has since said she did not consent to the search, and her attorney, Sam Cammack, said the act, which took place in a public parking lot, violated her civil rights. 
Meanwhile in Iowa City, Iowa: Gilbert Phelps, a 20-year-old white man, was pulled over and admitted to having smoked marijuana. He was arrested for driving under the influence but, you know, everything was still really chill. 
Here's the arresting officer's report, made public by the Smoking Gun:
During the testing process the defendant requested to take a SnapChat selfie with me to which I happily obliged. He said he captioned the photo using emoji icons showing a police car, next to a passenger car, next to a tow truck.
While Corley and Phelps are in two separate jurisdictions, there's no doubt that there are two issues at stake here: Black Americans may make up 14% of drug users in the country, but they are more likely to be arrested for their drug crimes than their white peers, and they end up serving as much jail time as a white person who was found guilty of a violent crime, according to the Drug Policy Alliance. Blacks and whites tend to use marijuana at about the same rate, according to the American Civil Liberties Union.
Secondly, though this was part of a police search, Corley said she felt as though she had been sexually assaulted. Sexual harassment and assault are particularly tied to traffic stops and are the second-most reported form of police violence against women, according to the African American Policy Forum. 
So, to recap: Corley had to withstand the humiliation of a vaginal search in a public area, while Phelps made light of the situation for his Snapchat homies. 
h/t Jezebel