Kim Kardashian Just Silenced the Body Shamers With a Nude Selfie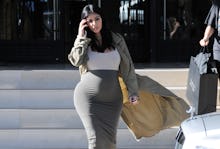 In the unending wave of judgments and critiques lobbed at women's bodies, Kim Kardashian is a frequent target.
That criticism has an ugly tendency to spike when the reality star is pregnant, a period when so many women have their bodies judged for what's "good" or "bad," whether they have the "right" kind of pregnant body or the "wrong" one.  
So on Tuesday, Kardashian directly addressed all those sizing her physique — and any other woman's — up from afar in the most classic Kardashian way possible: posting a nude selfie to Twitter.
She continued on for good measure, calling out those who concern themselves with constantly assessing her weight, shape and photographs.
Kardashian may be an easy target. But the issues she addresses are also faced by plenty of other women, whose bodies are subject to heightened scrutiny with the very public experience of pregnancy. There's discussion of how much weight someone's gained, or how they're "carrying" — and, of course, how they'll lose that weight and forge their "post-baby bodies."
But there's no one "right" way to look when you're pregnant, as Kim points out, nor is there one way to handle weight gain and loss — even from one baby to the next. As Jessica Simpson, another target of pregnancy weight criticism, said on Today in 2014, "It wasn't really my priority to please the public and make them feel like I'm supposed to be looking like I did when I was 25."
Criticizing women's bodies in this public way has real-life consequences. Kardashian herself told Vogue UK in 2013, "For me, having people criticize what I wore and looked like when I was pregnant — that was hard. It made me feel insecure, so I have tried to avoid the limelight more."
In an ideal world, Kim — or any woman for that matter — shouldn't have to take a naked selfie to make the criticism and doubt stop. But producing a photo sends a "screw you" to the critics, and also does something else really great: It reminds women everywhere, including Kardashian's 34.3 million Twitter followers, what a "real" celebrity body looks like. It's got lumps, it's got curves, and when it's pregnant, it grows. Crazy, right? 
Leave it to Kim to show us, for once, what's real.