Black Activists Are Literally Stealing the Stage from 2016 Contenders — And It's Working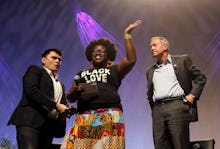 Black activists are literally stealing the stage from Democratic and Republican presidential hopefuls. Not just some, but most democrats, including Vermont Sen. Bernie Sanders and former Maryland Gov. Martin O'Malley. And, yesterday, activists disrupted and ended a town hall featuring GOP contender Jeb Bush in North Las Vegas. 
Despite the knee-jerk critiques presented by supporters of presidential contenders, disruptive actions have spurred some results. While it still might be too early to assess the extent to which the disruptive actions yield actual shifts in policy, we should not discount the efforts as aimless and nonsensical.
Contenders have recalibrated their messages and tone. On Sunday, for example, Sanders added "racial justice" to his list of policy priorities one day after he was prevented from speaking by two Black Lives Matter activists based in Seattle.
In July, O'Malley apologized for saying "all lives matter" at the Netroots Nation conference in Arizona where he was disrupted by activists who insisted he needed to seriously consider the structural impacts of racism in black people's lives and communities.
For better or worse, people across the country are talking about race. Beyond the shifts in contenders' narratives on the campaign trail, there is a public discourse on race and anti-black racism that is taking place within media, educational institutions, communities and living rooms. The contemporary discourse is more demonstrative of a movement's tremor than ever before in recent national history.
Much of the developing public discourse on race and racism has to do with the disruptive actions these bold activists have conceptualized and performed before and during this presidential race. Activists have leapt onto stages in the presence of thousands of white liberals to remind them that #BlackLivesMatter is more than a tagline to be placed on a cute, politically correct T-shirt. In response, many have expressed resentment and discomfort when activists' criticize them, but some are abandoning the apathy and complacency that lies at the heart of racial antagonism and white racial supremacy.
Moreover, a line has been drawn in the proverbial sand of liberal politics. When activists appeared at a Sanders event some of his supporters, in a crowd of mostly white people, lambasted them.
The disruption and the supporters' subsequent responses clearly illustrated the limitations of a white liberalism that focused on class struggle, but lacked a nuanced understanding of how race and racism are tied to economic wellness. #BlackLivesMatter insinuates the lives of the black poor and working poor matter, too. Alicia Garza, one of the co-founders of Black Lives Matter, says as much in her Feminist Wire essay on the "herstory" of the movement. Yet, the vitriolic response by people at Sanders's event and similar events reveal who the real supporters of #BlackLivesMatter are — and are not. Let's count that as a win.
These successes, however, don't necessarily mean contenders will address their deep concern for black people should they win the White House. The stark difference between rhetoric and policy is why critiques over the effectiveness of these types of disruptions are worth considering, but activists seem to be aware of this tension.
Clinton's reaction: On Tuesday afternoon, activists from the Boston chapter of the Black Lives Matter network planned to interrupt a substance-abuse forum headlined by former Secretary of State Hillary Clinton in Keene, New Hampshire.
According to the New Republic, Clinton campaign staffers said the group of five was initially denied entrance into the main space where Clinton spoke because of capacity issues, but they were eventually escorted to an overflow room where they remained until the end of Clinton's speech.
In lieu of a disruption, however, activists briefly questioned Clinton about her personal thoughts on broader aspects of substance abuse given her support of the draconian drug and incarceration policies developed and implemented during husband Bill Clinton's presidency.
One of the Boston-based activists who planned to disrupt the event, Daunasia Yancey, told the New Republic, "I asked specifically about her and her family's involvement in the war on drugs at home and abroad, and the implications that has had on communities of color and especially black people in terms of white supremacist violence. And I wanted to know how she felt about her involvement in those processes."
Yancey's questioning was a way to connect Clinton's rhetorical use of #BlackLivesMatter to the principles that inform her policymaking. Clinton's fiery speeches on criminal justice reform, which Slate's Jamelle Bouie described as a "remarkable piece of political rhetoric," is the reason activists are pushing Clinton to assess the disconnections between her cavalier political speak and personal political commitments.
As the burgeoning movement for black lives aims to call out and ameliorate police brutality, economic disenfranchisement, mass incarceration and other forms of state-sanctioned violence and dispossession disproportionately impacting people of color, activists are rightly naming the state as the object of its critique. These very real, very present problems make it clear this is not the time for political platitudes. As such, presidential hopefuls — especially Democrats who claim to be progressive — will most likely be beset by disruption.
Throughout the long history of black struggle in the United States, policy shifts often followed acts of civil disobedience and mass protest by black activists — the "Bloody Sunday" march in Selma, Alabama, is just one example of an organized action to bring national attention to the need for federal voting rights protections.
Direct actions can work if they are shaped by strategy. While this movement may seem disjointed to those outside of it, these activists have a plan. For example, Tia Oso, who interrupted O'Malley at the 2015 Netroots Nation conference, is the national organizer for Black Alliance for Just Immigration (BAJI), which has been at the forefront of shaping policy inclusive of black undocumented immigrants. 
Oso's actions were developed to bring widespread public awareness to the issues she and her organization fight for daily. The seeming lack of public awareness of movement strategy and platform might very well open the movement to critique, but that does not mean movement organizers across the country don't have, or aren't creating, strategies.