Female Athletes Are Having the Best Summer Ever. Here's the Proof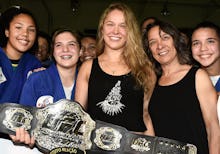 Women's sports have long been in the shadow of more popular and well-financed male athletes. In the past two decades alone, women have funneled in and out of a number of short-lived women's basketball and soccer leagues, not to mention being saddled with sexist low expectations, like when (male) fans say that they'd rather find $5 than see their local WNBA team win a championship. 
But this summer is different. Women athletes are showing out at an unprecedented level, proving not just that they're worth watching, but almost shaming a world that's only just now tuning in. Here's a look at how female athletes are literally changing the game.
U.S. Women's National Team Wins World Cup, and America's Hearts
In July, the U.S. Women's National Soccer Team beat Japan to win the World Cup. The game also earned the lofty distinction of being the most watched soccer game in U.S. history. The New York Times summed up its importance this way: "The United States women are now champions on two fronts, a testament to their enduring talent and to their appeal to an American public that increasingly seems tuned in to soccer." The team still had to fight to have a ticker tape parade, sued to keep from playing on artificial turf and earned several times less than their male counterparts. But thanks to their notoriety, some of that may change. 
Rhonda Rousey Is Untouchable
One hundred and thirty seconds. That's the total amount of time it's taken for MMA phenom Rhonda Rousey to beat her past four opponents. It's the type of domination that's made her the eighth highest paid woman in sports, according to Forbes. She made $3 million per fight and more than $3 million in endorsements. Her rise to fame has helped make her a media darling, and she's even got a biopic in the works.
Serena Williams Dominates the Court, and the Public's Conversation
Just one week after the U.S. women's team won the World Cup, Serena Williams won her sixth Wimbledon singles title and put the suffocatingly white tennis world even more on its heels. While Williams has dominated the court for years, her prolonged greatness became a particular focus this summer, with critics body-shaming her muscular physique on social media. The win also cemented Williams' dominance in the sport. To cement her place in pop culture, Williams absolutely slayed in a New York magazine cover story this month.
Coach Becky Hammon Wins an NBA Championship
Longtime WNBA star Becky Hammon made the transition to coaching this year, working as an assistant coach for the perennial powerhouse San Antonio Spurs. This summer, Hammon was appointed to coach the team's summer league, which she steered to a championship. Along the way, she's shutting down stereotypes that suggest professional male athletes won't respect the leadership of female coaches. "She's the coach and we just listen," one player told the Guardian.
The NFL Welcomes Its First Female Assistant Coach
American football is known for being the ultimate tough guy act, but earlier this month, the Arizona Cardinals announced that they'd hired Jen Welter as an inside linebackers coach. The move made Welter, who had a pretty impressive football resume of her own, the  first female coach.