5 Times the Kardashians-Jenners Totally Failed at Cultural Appropriation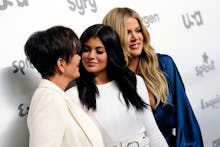 Remember when Kylie Jenner did this?
It blew up the Internet, mostly because teen star Amandla Stenberg chimed in with this incisive critique:
Now Jenner is back in the news for all the wrong reasons. Days after celebrating her 18th birthday, the reality star was caught on vacation rocking cornrows again. 
No word yet from Stenberg, but if history is any indication, Jenner likely won't listen to the critics anyway. In fact, the same can be said for the entirety of the Kardashian/Jenner clan, who've repeatedly tried, and failed, to make cultural appropriation work. Here are some examples:
Khloe's headdress: 
Last summer, Khloe enacted the worst of every Coachella stereotype when she rocked a Native American headdress at her niece North West's first birthday party, dubbed "Kidchella." After critics weighed in, she actually changed her tune, tweeting to one follower, "thanku 4being 1of the ONLY people who care enough 2educate rather than threaten/attack. Ur culter is beautiful &I would love2learn."
Scott Disick's halloween sheik costume:
The only thing worse than Lord Disick, Kourtney Kardashian's ex, dressing up like a sheik for Halloween...
...was when Khloe posted a photo on Instagram of the bad costume alongside her cat get-up and captioned it, "Sheik pussy."
Kim's infamous butt cover:
Kim Kardashian was out to break the Internet with this infamous Paper magazine cover. But, as Blue Telusma wrote at the Root, she didn't get (or care?) that she was the butt of an old racial joke about black women's bodies.
Why it matters: The Kardashian clan has built their multimillion-dollar empire on branding themselves with black cool. Sometimes they've shown a willingness to learn, but mostly they've used cultures of color to simply accessorize. All the while, Caitlyn Jenner is showing the world how to use privilege and fame in a constructive way. Maybe one day the same attitude will rub off on the kids.