25 Trans Women of Color Have Been Killed in 2 Years. That May Be the Tip of the Iceberg.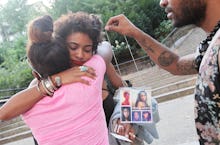 It's been two years since Islan Nettles was beaten to death on a Harlem street in New York City. Nettles, a 21-year-old black transgender woman who was studying to become a fashion designer, was walking with two trans female friends when she was attacked by a group of several men near her home in Harlem, N.Y. The men allegedly hurled slurs at Nettles' group as she fell to the ground and was repeatedly struck in the head. She died at Harlem Hospital days later.
Nettles' death became a focal point of transgender activism, as it showed the pervasive nature of violence against transgender women of color. That she was beaten on a crowded New York City street on a Saturday afternoon showed the callousness with which trans women are treated. That it took nearly two years for a suspect, 24-year-old James Dixon, to be taken into custody in her death showed that justice is often elusive.
Nettles' mother, Dolores, later told the New York Daily News about her grief. At times still struggling with her child's preferred pronouns, she said, "I just wish I had the opportunity to say goodbye to him. I'm never going to get that." She added, "I accepted him no matter what because I loved him at the end of the day. ... My son was a beautiful woman."
Since Nettles was killed in 2013, more than two dozen known transgender women, most of them people of color, have been killed in the United States. It's part of an epidemic of violence targeting the trans community, according to advocates. Responding to the death of Elisha Walker, actress Laverne Cox likened the targeted violence to a "state of emergency" for transgender people and their allies, who have long struggled to bring attention to such crimes.
While the deaths of these women have received more attention in recent years, little is known about the specific challenges facing transgender women, especially those of color. In 2008, the National Center for Transgender Equality released one of the few wide-reaching surveys done about transgender people of color, which collected data from nearly 6,500 people, 381 of whom were black or multiracial. That survey painted a stark picture: Twenty-six percent of black transgender people were unemployed, and 50% reported being forced to participate in the underground economy in order to survive. Respondents also reported higher than average rates of physical and sexual harassment, attempted suicide and police bias. We also know that transgender people of color are more than twice as likely to experience intimate partner violence, according to the National Coalition of Anti-Violence Programs.
Why it matters: To stop discrimination and violence against transgender people, it's important to know who exactly is part of that community, but according to experts, the U.S. simply doesn't have those numbers. For those who provide services for transgender people, the need for more accurate information is pressing. "It's a human rights issue to provide services to the transgender community and provide a welcoming and safe environment," Jim Mangia, the CEO of St. John's Well Child and Family Center in Los Angeles, which runs a trans-specific health clinic, told Mic. 
"If you're overlooked, you're at greater risk of being underserved," Kerith Conron, a research scientist at the Fenway Institute, told FiveThirtyEight. Conron, who worked for Boston's health department, said she knew homeless transgender people who slept on benches because shelters segregated by gender didn't know "what to do with them."
To date, there is no accurate count of how many people in the country identify as transgender. The U.S. Census, for example, counts sex (male or female) but not gender. "When you can't quantify the statistics of a group ... you can't understand its challenges — or easily lobby for federal funding — without evidence," Mara Keisling, executive director of the National Center for Transgender Equality, told the Washington Post. 
Without resources to stop discrimination or violence against trans people, it seems that what we don't know about the transgender community has literally proven to be deadly. Here are 25 reasons we need more information on — and ways to protect — trans lives:
Elisha Walker, 20
Walker, a 20-year-old transgender woman who went missing in November, was found in a shallow grave in North Carolina earlier this month, according to the Guardian. Angel Dejesus Arias, a reported member of the Latin Kings gang, has been arrested in connection with her death. 
Ashton O'Hara, 25
O'Hara, a black transgender woman, was found dead in a Detroit field July 14.
Shade Schuler, 22
Schuler's body was found in a field in Dallas in July. Her body was so badly decomposed that it took two weeks to positively identify her remains. 
Amber Monroe, 20
Monroe was fatally shot in Detroit on Aug. 8. 
India Clarke, 25
Clarke was found beaten to death near a Florida playground in July. Keith Gaillard has been arrested and charged with her murder. 
K.C. Haggard, 66
Haggard was fatally stabbed in Fresno, California, in July. A local news station obtained video footage of the attack. 
Papi Edwards, 20
Edwards, who identified as a transgender woman, was found shot to death Jan. 9 in Louisville, Kentucky.
Lamia Beard, 30
Beard was shot to death in Norfolk, Virginia, on Jan. 17.
Ty Underwood, 24
Underwood was fatally shot on Jan. 26 in North Tyler, Texas. A suspect has been arrested and charged with her death. 
Yazmin Vash Payne, 33
Payne was found shot to death at the scene of a house fire in Los Angeles on Jan. 31. Her boyfriend, Ezekiel Dear, has been arrested and charged in her death. 
Taja Gabrielle DeJesus, 36
DeJesus was a Latina transgender woman who was found stabbed to death in a San Francisco stairwell on Feb. 1. 
Penny Proud, 21 
Proud was found shot and killed in New Orleans on Feb. 10. She was the victim of an apparent robbery, according to police.
Kristina Gomez Reinwald, 46
Reinwald was a Latina transgender woman who was found unresponsive in her Miami home on Feb. 15. Her death is being investigated as a homicide. 
London Chanel, 21
Chanel was found stabbed to death in Philadelphia on May 8. Her roommate, a 31-year-old man, has been arrested for her death. 
Mercedes Williamson, 17
Williamson was found buried in a Mississippi field on May 30. Josh Brandon Vallum, 28, was arrested in connection with her murder, reportedly after telling his father about the crime. 
Kandy Hall, 40
Hall was found dead in a North Baltimore field in early June. Her death marked one of several attacks against transgender people in that city.
Zoraida Reyes, 28
Reyes, a Latina activist, was found dead in a Dairy Queen parking lot in Los Angeles on June 12, 2014. A man named Randy Lee Parkerson was arrested and charged with her murder.
Yaz'min Shancez, 31
Shancez's dead body was found burned in a garbage bin at Budget Rental Truck in Fort Meyers, Florida, in June 2014. 
Tiff Edwards, 28
Edwards was found shot to death in the middle of the street in a suburb of Ohio on June 26, 2014. 
Mia Henderson, 26
Henderson was found dead in a Baltimore alley in June 2014. Her death received widespread attention when it was revealed that her brother was NBA player Reggie Bullock. 
Deshawnda "Ta Ta" Sanchez, 21
Sanchez was a black transgender woman who was shot and killed in Los Angeles on Dec. 3, 2014. 
Aniya Parker, 47 
Parker was shot and killed in Los Angeles on Oct. 2, 2014. Police investigated the case as a robbery gone awry, and arrested one person while looking for two others. 
Alejandra Leos, 41
Leos was shot and killed after an argument with Marshall Pegues in Memphis, Tennessee, in Sept. 2014. Pegues was later arrested and charged with her murder. 
Ashley Sherman, 25
Sherman was found dead in an Indianapolis parking lot in Oct. 2014. 
Gizzy Fowler, 24
Fowler's body was found in the driveway of an empty Tennessee home in Nov. 2014.