The Amount of Time People of Color Spoke in Every Harry Potter Movie? Less Than 6 Minutes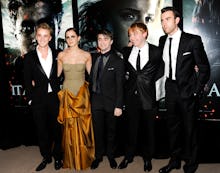 Dylan Marron is an actor and playwright whose Every Single Word project counts the lines every character of color says in big budget films. For example, in his version of the film Into the Woods, people of color say... absolutely nothing. 
"Being brown and queer, there's a very specific role out there. But I find the big road block is being a person of color," Marron told the Washington Post about why he started the project. 
He recently completed his count for all eight Harry Potter films and found that in 1,207 minutes, 12 characters of color speak for a cumulative five minutes and 40 seconds.  
"J.K. Rowling created a truly incredible world," Marron writes about his findings on Facebook. "The story of Harry Potter deals with universal themes like honor, destiny, friendship, self-actualization and empowerment through education." He concludes, "These themes are not intrinsically white."
Remember the really cool fanart depicting the Harry Potter world as people of color? It turns out there's a good reason that fans had to take the beloved franchise's diversity into their own hands.
Watch Marron's full video here: