7 Black Women Take Over the Newsstand on Multiple September Issues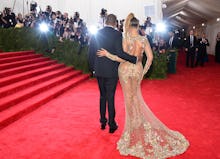 September will be a big month for #BlackGirlMagic. That's when seven — yes, seven! — black women will grace the covers of fashion magazines during the industry's biggest month in publishing. 
Even the most casual reader of women's magazines knows the September issue is the crowning glory. The ritual rings in a new year of fashion while attracting a staggering number of ad pages for some of the industry's heavy-hitters. As captured in the 2009 documentary The September Issue, Vogue editors put out all the stops to assemble what is known as the year's style bible. But with such pressure, these magazines have also been reluctant to put women of color on these covers. 
"Beyoncé is a powerhouse," Margo Jefferson wrote for Vogue. "She can sneer. She can out-strut and stare down any man in the film frame. Call her, in the songs, She Who Must Be Obeyed — in the palace, in the bedroom, in the hood, on the road and on the runway." 
Queen Bey isn't the only one who reigns every magazine cover she appears. As Janet Mock said Wednesday morning: 
 Here are six other women featured on September issues, and pearls of wisdom from each.
Serena Williams
"I will not give these people the validation. I will not stand down." — New York magazine
Kerry Washington
"I have to take care of myself in order to live life the way I want to. It's important to have rest days. But in the long run, if I don't work out for, like, three days, I feel worse, not better." — Self
Misty Copeland
"I'm going to continue to be who I am and my experiences as a black woman have made me who I am. All of a sudden now that I am in this position, I'm not going to say 'I'm just a dancer.' It's a huge deal because I'm a black woman. That's why it's a big deal." — Essence. 
Willow Smith
"Once you realize that there's something more than what you've been given permission to believe, then a whole other dimension of life is opened up to you — a whole other dimension of creation, of laughter, of living, of everything." — i-D
Amandla Stenberg
"I want to make things that have an impact on how we look at the world. I know it's a tall glass to fill, but it's a glass that really does need to be filled, as an African-American woman." — Dazed
"I truly believe that if you put your goals in writing, speak them out loud and work for them, they will happen." — Shape 
It's an incredible moment for fashion. The industry continues to grapple with questions about how to increase diversity. "If television can be diversified, so can we," Bethann Hardison, a model agent and advocate for diversity, told New York earlier this year. At the very least, this is an important start.
h/t Fusion