Activists Painted Stonewall Statues to Honor the Trans Women of Color Who Kicked Ass There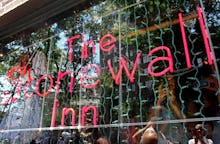 The fight over the legacy of the Stonewall Rebellion just got a big make-over.
The Stonewall Inn, a bar in New York City's Greenwich Village, earned an iconic place in the history of the LGBT movement in 1969, when it played host to a confrontation between gay and transgender customers and police officers who tried to raid and arrest patrons, a common practice at the time. While the rebellion has largely been seen as the beginning of the modern gay liberation movement, some of its leaders have only recently gotten the attention they deserve. Notably, transgender women of color like Sylvia Rivera and Marsha P. Johnson were in the fray that night. Not only did both advocate for gay liberation, but they also pushed that movement to consider the realities of racism and poverty.
The call to action: Miss Major Griffin-Gracy, another transgender black woman who played a pivotal role in the rebellion, expressed her unhappiness that the contributions of people of color have seemingly been erased — all symbolized, in her eyes, by a collection of white plastered statues of patrons of the era. 
In an interview with Autostraddle this month, Miss Major channeled her anger into a call to action. "Let's get together a group of people to redo those goddamn statues across from the original Stonewall," she told Autostraddle. "Let's have the building at least claim who the people were that were there, not these white people that they had on in the plaque in there." 
"Someone should smash those motherfuckers up and turn them into the white dust that they are and put a couple of statues of people of color," she added, "and at least make one of them an overly obnoxious transgender woman, six foot five, three inch heels, blonde/red hair, lashes, beads, feathers, and put one of those fine white boys next to her. Now that I can handle!"
This week, two anonymous activists heeded her call and painted the statues black:
The activists, described as gender nonconforming Brooklyn women in their 20s, told Autostraddle they acted because they thought the current figures were a "slap across the face to black and Latina trans women" who were also subjected to violence at the Stonewall Rebellion.
"We painted them because Marsha P. Johnson, Sylvia Rivera, Miss Major, Storme DeLarverie and all the other black and brown people who led the movement deserve credit for their courage and strength. What we did was rectification, not vandalism. Those statues are bronze (brown) underneath the layer of white paint — the symbolism behind that is infuriating. I know that some people are going to be angry, but I'm not concerned with preserving bullshit art. I'm angry about the whitewashing of LGBTQ history."
Whose history is this anyway? The events surrounding the Stonewall Rebellion back in the national spotlight, as Stonewall, a new feature film slated for release on Sept. 25, appears to exclude many characters of color who were integral to this moment. Its director is out director Roland Emmerich, who has taken criticism since releasing a trailer depicting the rebellion from the perspective of a transplanted white Midwesterner:
Meanwhile, the statues have been repainted white. 
The saga continues.