What Happens When You Lose Your People: Hurricane Katrina Revisited 10 Years Later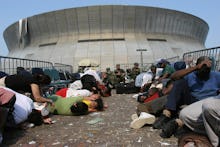 This article was co-written by Jamilah King.
Myron Broussard is tired. He's only 30 years old, but the memories of Hurricane Katrina devastating his home in New Orleans 10 years ago — memories that he tries hard to not remember — still haunt him.
Broussard miraculously slept through the storm's initial impact, but he remembers the howling winds that finally woke him the fateful morning of Aug. 28, and the chaos that followed. He remembers losing touch with his mother and sister because cellphones didn't work, a result of dysfunctional cell towers; walking to his local Winn-Dixie, where he watched in disbelief as people took the food and supplies they needed and police looked on; cutting his hand as he broke a window of a neighbor's house in order to get to higher ground; seeing bodies float by in the floodwaters near Louisiana State University Hospital, where a security guard refused to let him in for treatment of his hand; the days he spent in the Superdome, where he helped carry people who'd passed out from dehydration to safety and stood outside waiting for evacuation buses; the long bus ride to Texas, during which an EMT told him he'd have to have his hand amputated because it had developed gangrene after exposure to flood waters; arriving in Fort Wayne, where he finally saw a doctor and learned he wouldn't lose his hand but realized that with little money, no job and no home, he'd lost just about everything else.
Broussard is back in New Orleans now, renting out houses, apartments and commercial real estate to people who can afford them. With an average two-bedroom apartment going for $925 per month, nearly $250 more than what they went for before Katrina, he can see just how swiftly his city is changing — especially for New Orleans' black residents, many of whom Broussard says still suffer from the emotional trauma of the storm. "It's gotten worse because they got left behind," he told Mic. 
Of course, New Orleans' black community was getting left behind long before Katrina hit. Before the storm, "two-thirds black, New Orleans was deeply segregated and marked by racial division in its economy and politics," Mary Gail Snyder wrote for the National Housing Institute, a nonprofit organization that examines housing disparities in the United States. "With its economy chronically stagnant and its population shrinking, it was a city short on adequate housing and health care and well-paying jobs. Its education system was so poor that it is estimated that 40% of the adult population was functionally illiterate. Before the hurricane, it was already a large-scale humanitarian crisis."
Before the storm, New Orleans was a big, black city in Louisiana — the state in third place when it comes to the number of people in poverty. As longtime residents mark the storm's tenth anniversary, they told Mic how they're still fighting against longstanding structural inequalities that were merely exacerbated by the storm. 
There still was pride. Fifty-year-old J'Renee, an artist and former New Orleanian who moved away from the city after Katrina, told Mic her family and friends have nicknamed her young son the "Ambassador of New Orleans" because he still brags about the city's vibrant culture even though they moved to South Carolina 10 years ago. "He would tell [family and friends] about the food, music, the 'second line' [parades] and all kinds of stuff because this was his life. He's used to Treme and the jazz funerals," she said.
Ten years ago, the mother of two lived in East River, a neighborhood primarily comprised of black homeowners that was as much warmed by neighbors' kindness as by the grueling New Orleans heat. Situated near Magazine Street, a high-end business area, the neighborhood J'Renee and her kids called home was the type of community where families shared meals, or what she called "lunch plates," and people looked out for one another. 
J'Renee described East River as an "older neighborhood" and not a "gentrified" part of the city. Her recollection captures a sentiment shared by others: New Orleans was a different place before Katrina. It was home — replete with familiar faces and shared cultural traditions — despite its problems. 
Of those, there were many. "From the voting rights violations of 2000, to the vast disparities in drug laws that ... resulted in the imprisonment of hundreds of thousands of young African-American and Latino men, to the continued widening of racial and wealth gaps when it comes to finances, education and health services," New Orleans has been plagued with "vast inequalities of our democratic system, particularly as they are manifested along racial lines," political scientists Dara Strolovitch, Dorian Warren and Paul Frymer wrote in 2006. 
Throughout the nation, black people are more likely to be incarcerated than white people, according to the U.S. Department of Justice. But in 2005, the year of the storm, the incarceration rate of the mostly-black New Orleans was more than five times the national average. The city has lowered this number since then, while other issues have gotten worse. Forty-four percent of black children lived in poverty in 2005; today more than 50% do, according to the Urban League of Greater New Orleans, compared to 38% of black children nationally.
Such inequities inevitably shaped the response of many in the storm's immediate wake. "Like everybody else, I lived paycheck to paycheck, and the storm inconveniently hit ... two days before payday," 41-year-old Ashana Bigard told Mic. "A lot of people don't think about that when they judge New Orleanians. We did not have the gas to get to Houston."
"Like everybody else, I lived paycheck to paycheck, and the storm inconveniently hit ... two days before payday. A lot of people don't think about that when they judge New Orleanians. We did not have the gas to get to Houston."
An infusion of federal and private recovery dollars is a sure sign to some black residents, like Bigard, that the city post-Katrina is changing, and not necessarily for the better. "We've been gentrified," she told Mic. 
The process began before Katrina. "Gentrification arrived rather early to New Orleans, a generation before the term was coined," Richard Campanella, a geographer at the Tulane School of Architecture wrote in New Geography, an online site that examines space and cities.
According to Campanella, the city's French Quarter was already mostly gentrified by the 1970s, and the process continued in other areas of the city from 1980 to 2000. Then, "everything changed after August and September 2005, when the Hurricane Katrina deluge, amid all the tragedy, unexpectedly positioned New Orleans as a cause célèbre for a generation of idealistic millennials." Losing, however, are "native tenants [who] fare the worst in the process, often finding themselves unable to afford the rising rent and facing eviction."
Despite its problems, the residents we spoke with talked about pre-Katrina New Orleans as if it somehow was a city more amenable to black people than the New Orleans of today. "People compare [New Orleans] before the hurricane and after the hurricane," 29-year-old Peter Davis told Mic. Katrina was the fulcrum around which the city reformed, but change is seemingly understood as benefiting white residents and incomers. The median income for white people in New Orleans, for example, remains on par with white households nationwide, while that of black households is 20% lower than other African-American households nationwide.
"When the mayor says our city is doing good, what he's really saying is white people in this city are doing well. ... Even though black people are the majority of the city and we are not doing okay, it doesn't matter, because white people are doing okay," Bigard told Mic. 
Katrina exposed many of the structural issues already plaguing New Orleans, but its impact is hard to capture in numbers. More than 1,400 people died during the storm, many of them black elders who lived near the levee's breaches. Andé Verdun Jones, now 40, was one of the people left with the macabre task of cleaning up. His family ran Jones Funeral Home, one of several companies contracted to pick up dead bodies. He vividly remembers driving to do just that and seeing two refrigerated trailer trucks in Jefferson Parish, on the west bank of New Orleans. Together, they held about close to 100 bodies, stacked on shelves.
"That picture in my head of seeing those bodies in there stacked up is what I remember vividly," Verdun Jones told Mic. "That's what kind of started my process in working in Katrina, servicing people who were coming from New Orleans. It was an eye-opening experience."
"Death was all around you. Everywhere you moved, you smelled death."
The trauma was especially acute inside the Superdome, where an estimated 23,000 evacuees sought safety. Broussard, the man who says he was turned away from University hospital, and several friends had paddled to the Superdome in a used jacuzzi from their homes in the Fischer Housing Projects. Upon arriving, Broussard was relieved to find his mother but horrified by everything else. "Death was all around you," he told Mic. "Everywhere you moved, you smelled death."
Structural damages were in excess of $200 billion, according to the Bureau of Labor Statistics. In areas damaged by Katrina, Brown University sociologist John Logan estimates that 45.8% of the population was black, compared to 26.4% in undamaged areas. In fact, the majority of the homeowners in areas ravaged by Katrina, like the Ninth Ward, were black, the National Institutes of Health reports. Some sources estimate that more than 175,000 black residents left New Orleans in the year after the storm.
In addition, nearly 20,000 black-owned businesses in Louisiana, which had previously generated an estimated $886 million in profits, were negatively affected by Katrina. Residents like J'Renee lost her home and her high-end boutique and gallery. New Orleans also lost J'Renee when she and her family moved to South Carolina.
"I'm in mourning for my city," Bigard told Mic. "If it's not dead, it's most certainly on life support and people are trying to pull the plug. My city is no longer welcoming to [black] people like me."
This week marks the tenth anniversary of Katrina, but 10 years later it's becoming increasingly clear that problems impacting New Orleanians today are not all the result of a natural disaster. Katrina uncovered the human-made forces of destruction that had already harmed black residents that were there this week, 10 years ago, before rugged winds and unabating waters rocked the Big Easy. 
Correction: Aug. 24, 2015