A Group of Black Women Were Kicked off the Napa Valley Wine Train for Laughing too Loud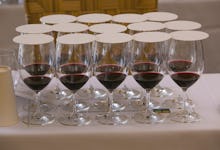 Aboard the Napa Valley Wine Train, customers get a one-of-a-kind experience "multiple-course meals, Napa Valley scenery and ultimate relaxation" on vintage train cars, according to its website. But that's not what happened when a group of 10 black women and one white woman took a trip on board as part of a book club outing. The women say they were kicked off the train over the weekend for laughing too loud. 
"It was humiliating. I'm really offended, to be quite honest," Lisa Johnson told the San Francisco Chronicle. "I felt like it was a racist attack on us. I feel like we were being singled out."
The saga began on Saturday morning when the women, who are part of a book club called "Sisters on the Reading Edge," set off to explore Napa's famous wine country in a sold-out car on the Napa Valley Wine Train. They did what any group of friends would do on a wine train: drank, laughed and had fun. Other passengers even asked them about the book they were reading and took photos with them. But this stopped when a train manager came and asked them to quiet down. "The train is set up to be with your friends, to drink wine and have a good time," Johnson told the San Francisco Chronicle. "We were thinking, 'Who are we offending?'"
After some back and forth, during which the women continued to have a good time and a manager confronted them again, the women were escorted through the train, past all of the other paying customers, and met by four local police officers. There were no arrests or citations, but "people were looking at us," Johnson told the San Francisco Chronicle. "To get escorted into the hands of waiting police officers, that's the humiliating part." 
The group included an 83-year-old grandmother who's old enough to remember the days of Jim Crow segregation laws.
Soon, they became the focus of widespread support on social media, with supporters calling theirs a case of racial profiling, or #LaughingWhileBack.
Other train customers, including white passengers who said they were also on the train with the book club members, came to their defense.
Napa Valley Wine Train spokeswoman Kira Devitt issued a statement Sunday, which says the company "received complaints from several parties in the same car and after three attempts from staff requesting that the group keep the noise to an acceptable level, they were removed from the train and offered transportation back to the station in Napa." The women were given a full refund. But Johnson said they're still waiting on "a public apology for the humiliations they caused to us as professional women."
h/t ThinkProgress