Donald Trump-Megyn Kelly Feud Reignited With Late Night Tweets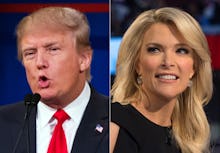 Fox News anchor and Republican debate host Megyn Kelly returned to her desk at The Kelly File Monday night following a 10-day vacation, much to the disdain of presidential hopeful Donald Trump. So he took to Twitter and reignited their feud. 
After her first appearance back on TV since taking time off, Trump blasted Kelly late Monday night on Twitter (mostly through retweets) for being "off her game" and "looking like Nancy Grace."
The GOP candidate then concluded his thoughts on Kelly with a rather damning retweet calling her a "bimbo":
This isn't the first time Trump has taken to Twitter to call Kelly a bimbo. The real estate tycoon posted his thoughts on the debate host after her questions put his history of mocking women front and center during the debate night. 
Trump attacked Kelly for not being tougher on her first guest on the show since her return to Fox News, Cornel West. Kelly's interview with West focused on his involvement in the Black Lives Matter movement, economic inequality and crime in the United States, among others things.
The stream of consciousness follows a turbulent few weeks for Trump and Kelly's relationship: Trump made some controversial and sexist statements about Kelly after she questioned him during the first Republican national debate on his history of name-calling and shaming women for their appearance. 
"You've called women you don't like 'fat pigs,' 'dogs,' 'slobs' and 'disgusting animals,'" Kelly said to Trump during the debate, to which he replied, "Only Rosie O'Donnell." 
"She gets out and she starts asking me all sorts of ridiculous questions," Trump told CNN following the debate night. "You could see there was blood coming out of her eyes, blood coming out of her... wherever. In my opinion, she was off-base."