Here's What We Need to Stop Saying About Black Women's Bodies Right Now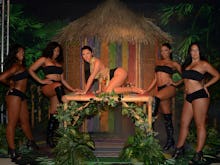 Between Serena Williams and Nicki Minaj, black women's bodies have been all the rage this summer.
Let's recap: Williams and Minaj, both extraordinarily successful in their respective fields, have had their bodies picked apart and prodded over the past several months. In Williams' case, obsessions with her powerful physique have overshadowed her dominating performance on the tennis court. Critics have said that she "looks like a man" because her body doesn't conform to the traditionally thin and white bodies that you usually see on tennis courts. 
Meanwhile, Minaj's wax figure at Madame Tussauds Las Vegas was, initially, a source of pride for the artist.
But after so-called "fans" began defiling the figure and posted pictures of it on social media, Minaj went silent. The museum ultimately decided to redo the whole figure. 
Even when black women's bodies are supposed to be celebrated, they're ridiculed. This isn't a new phenomenon. It dates back at least to the 19th century, when Saartjie "Sarah" Baartman was taken from her native South Africa and paraded through Europe as "Hottentot Venus," where she was mocked for the size of her buttocks and genitalia, and eventually died in France from smallpox. The stakes may not be as high for black women today, but the ostracizing is in the same spirit. 
Here are three lies we need to stop telling about black women's bodies.
Black women are immune to society's beauty standards. They're not. Eating disorders, though understudied among black women, definitely exists among black Americans. In fact, a 2006 study found that clinicians are less likely to diagnose women of color with an eating disorder because of the assumption that it's primarily a condition that impacts white women. 
Black women are not capable of making decisions about their own bodies. Again, not true. Black women's bodies are their bodies, but everywhere you turn, the opposite seems true. Lawmakers are more likely to try to control how and if they reproduce, whether they go to school or prison, whether or not they have housing, and whether they're entitled to freedom. 
Black women's bodies exist purely for your entertainment. This is an especially important myth to debunk, given our summer of obsession with Williams and Minaj. Black female entertainers and athletes shouldn't be thought of as just those things. Why? Because we allow others in similar positions — think NFL quarterback Tom Brady or Justin Timberlake — to embody the full range of their humanity. In short, this means we see that they're more than just physically capable of doing their jobs. We laud their brains and creativity. That same level of respect needs to be afforded to black women, too.
We can change the narrative. As Serena Williams takes to the court this weekend at the U.S. Open and competes for a Grand Slam, she's got a chance to make history. Viewers do, too: We can take the focus away from her body and instead discuss the range of skills she's used to climb her way to the top.