In 2000, Vester Lee Flanagan Sued a Florida News Station for Job Discrimination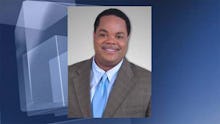 Vester Lee Flanagan, the man at the center of Wednesday morning's deadly shooting of two Virginia journalists, reporter Alison Parker and photographer Adam Ward, had launched complaints about what he saw as racism and discrimination in the newsroom throughout his career. In the hours after Wednesday's deadly shooting, Flanagan took to Twitter (his account has since been suspended) to explain his motives. He also posted shocking video of the shootings as they happened.
In his tweets, Flanagan, who used the name Bryce Williams professionally, seems to accuse both Parker and Ward of mistreatment, which he said involved race. He mentions filing an Equal Employment Opportunity Commission report after Parker alleged made racist comments to him.
Flanagan made similar accusations more than 15 years ago, when he worked at local news station WTWC-TV in Tallahassee, Florida. In March 2000, the Tallahassee Democrat reported that he filed a racial discrimination suit alleging that news producers and other managers made "offensive remarks about blacks" and that he was then fired for complaining. After he was told that his contract would not be renewed with the station, Flanagan told reporters "their reaction has been more of arrogance and retaliation — they told me, 'This is war,' and there could be no compromise." The Tallahassee Democrat also reported:
Vester Flanagan, who has reported for WTWC-TV since last March, said he and another black employee were referred to as "monkeys" and that a supervisor once told him that "blacks are lazy and do not take advantage of free money" for scholarships and economic opportunities. He said when he cited his own background of nearly seven years in television, going back to internships at San Francisco State University, the supervisor told him he was an "exception."
The suit was later settled out of court in 2001.
Flanagan has been identified as the main suspect in Wednesday's shooting. He reportedly shot himself and is listed in critical condition. 
Below is the text of the complaint that Flanagan filed in federal court against WTWC-TV in 2000: