These Remarkable Photos Reveal the Genius of the Black Designer Elevating Fashion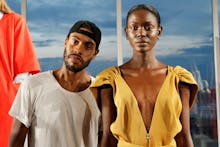 "I am that queer man — I was that queer boy who had no problem opting into clothing that seemingly wasn't marketed to me, but resonated with me."
As a designer, Charles Elliot Harbison is fascinated with gender play and manipulation. Now, as the founder and creative director of the eponymous fashion line Harbison, this young creative is slowly recharging and transforming an industry that rarely embraces black designers.
Harbison, the line, "offers many pieces that are gender-neutral. ... That's also a key point of the collection, and it's something that men and women are responding to," the designer told Mic. Harbison's genius has even captured the attention of top fashion publications like Vogue and Elle, and even Beyoncé and Michelle Obama have taken notice of Harbison's work. 
With luck, tenacity and skill, Harbison has become part of a small group of black designers forging a path in an industry still sullied by a stark racial divide; only three of the 260 men's and women's shows on the roster for 2015's New York Fashion Week in February included black American designers whose annual revenue exceeded $1 million. 
Such obstacles are no match for Harbison. Raised in North Carolina, he told Mic he grew up "running barefoot through big fields, playing in the woods and playing outside." As a working-class high school student, he had hopes of studying architecture in college. "In high school, I showed others my paintings, calligraphy and some of my drawings, but for whatever reason one afternoon I started doing these prom dress sketches," he said.
His budding interest in fashion quickly turned into a passion. He went on to study fine arts, painting and textiles at North Carolina State University, where he spent his summers interning at Jack Spade and Michael Kors — a company he would later join as a full-time designer working in womenswear. 
After graduating, Harbison spent a year studying central Asian textiles abroad before moving to New York City to enroll in the fashion program at Parsons School of Design. It was at Parsons that Harbison began crafting an aesthetic shaped by his southern black, queer feminist standpoints. Now, he said, he designs for the "woman who's in touch with that more masculine or more initiative or more commanding part of herself."
Harbison's intentionally and socially aware work is shaped by a commitment to social transformation and unity. "Making beautiful clothing that is desired by [people] across class, gender and race lines is a big deal," he told Mic. "It's the way that I can move the dial forward for society at large. Yes, this is what I can do. I can make beautiful things and bridge the gap between us all by way of these creations. That's how I get to be a part of the movement, and that's not lost on me."
While Harbison is committed to exploring aspects of culture in his work, his designs are also shaped by his understandings of geography, sensory experiences and rootedness in the South. "Being connected to the earth, and really having those sensual reactions to fashion because of what I breathed, smelled, felt, touched and experienced growing up in North Carolina ... I want [people] to experience similar reactions while wearing my clothes."
Harbison's work carries traces of a black cultural lineage into an industry that lacks equitable representation of black and brown people. "[My mom] sacrificed so much over my life to bring me to this point and has worked so hard and tirelessly. It's just super cool to be able to give that back to her [and my grandmother]," Harbison said, "because I feel like when I'm visible, the mavens that inspired me in North Carolina are also visible." 
But Harbison's work is also ahead of its time, and both pulls from a black cultural past and pushes design into the future. "I love the term 'Afrofuturism,'" he said. "It's not one that I get to use often, but it's something that definitely resonates with me. With Harbison, you'll see hard and soft, you'll see bold and subdued, you'll see bright and shadowed, you'll see solid and pattern and you'll see all of these things next to each other. You'll see male and female. It's all about a balance of contradictions, and I think that's how you create something new."