Miley Cyrus Tried to Make Racism Work at the VMAs — And Succeeded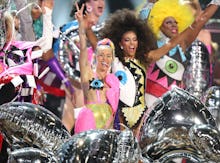 Miley Cyrus's assault on blackness at the 2015 MTV Video Music Awards began before she even opened the show. When this year's host showed up on the red carpet, the only thing worse than the 22-year-old pop star's metallic suspenders and sheer crystal beaded skirt were her faux blonde dreads. As it turned out, that hair wound up being one of her least racially offensive symbols. 
On a night primed for spectacle, Cyrus did her job as a provocateur whose fame rests largely on her ability to shock viewers. But most importantly, it seems the show was tailor-made to make racism work for ratings — and on that front, she succeeded. 
Let's recap. Cyrus, the daughter of country music gold, hails from Franklin, Tennessee — a place where black service workers are still being called niggers. While she may call her own grandmother "Mammy," she probably knows better than to publicly use that term, one that racist caricatures have been used to denigrate black people's existence in America. No white Southerner should be unaware of this.
Cyrus has spent the better part of her life in show business. With adulthood, the star of Disney's wholesome Hannah Montana recalibrated her image. She shaved her head, stuck out her tongue and twerked on Robin Thicke and into pop culture lore at a notorious VMA performance two years ago. She is a walking, talking ratings machine who succeeds because we're all willing to watch her fail every time she steps onstage. Her racially tinged actions prosper because we give them a platform. We tune in to watch a train wreck, and then shake our heads at the damage that's left behind.
But for Cyrus, this is business. We know this because when confronted onstage by Nicki Minaj for "hav[ing] a lot to say about me the other day in the press," all Cyrus could do was back down. "We're all in this industry, we all do interviews and we know how they manipulate shit," Cyrus said in response.
Grasping for ratings: Perhaps the real tragedy of the night is the fact that MTV and the VMAs have fallen so far that they needed Cyrus to help save the network. In the span of 30 years, MTV went from the innovative underdog that brought us everything from Yo! MTV Raps and reality television to a brand that's struggling to stay relevant to millennials. Prior to Sunday night's show, the VMAs had lost roughly 18% of its viewers between 2013 and 2014. Not even a surprise cameo from Blue Ivy Carter in 2011 helped.
MTV isn't the only traditional entertainment brand struggling to keep up in a vastly changed media climate. The music, cable and news industries have all been upended up massive shifts in how viewers make and consume content. As Sunday night shows, however, that disruption is working. Early indications show that the awards were a hit with viewers; at the very least, the show drew more than 47 million tweets on Sunday. It's especially effective for Cyrus, who ended her night by announcing a new album:
She did her job. And she did it well.