17 Images That Destroy the Most Common Myths About the Black Panthers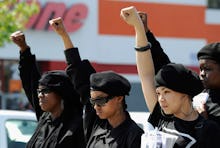 The Black Panther Party for Self-Defense has been inactive for 40 years, but its legacy is still mired in mythology. A new documentary by longtime filmmaker Stanley Nelson, titled The Black Panthers: Vanguard of the Revolution, chronicles the party's dramatic rise and fall, putting viewers face-to-face with some uncomfortable realities that boil down to the party's history, which is far more nuanced than most people may think. 
There are moments of the party's history that are etched into American's consciousness: the gun-toting standoff at the California state Capitol building, the campaign to free co-founder Huey Newton after his imprisonment on trumped-up charges, Fred Hampton's assassination in Chicago, J. Edgar Hoover's ultimately successful COINTELPRO campaign that destroyed the party's membership and leaders and Newton's often erratic, drug-fueled and abusive relationships toward women. But the party itself was often meticulous about documenting its own history, notably through the world of its longtime minister of culture, Emory Douglas, whose artwork would go on to become the aesthetic pulse of the era. (Coincidentally, the party also had its own funk band, the Lumpen).
Art for the people: It's through this artwork and the stories that Nelson captures that another narrative of the party's existence emerges. It's one that's far more redeeming, depicting a party that was inclusive of women, stood in solidarity with other liberation movements of the era and made the eventual turn to policy over provocation, with co-founder Bobby Seale running for mayor of Oakland. If you look closely, you can also see the groundwork laid for future movements, such as Black Lives Matter, whose leaders have often been vocal about their all-inclusive approach to political and cultural transformation: 
Nelson's film opens this week in New York City and will travel to select cities across the country, as well as stops in the United Kingdom and Australia, through November.