A College Instructor Got Rape Threats for Banning the Term "Illegal Alien" From Class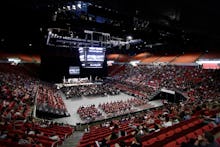 Rebecca Fowler expected a fight this school year, but not this one. 
The fourth-year Ph.D. student at Washington State University is writing her dissertation on how immigrant advocate groups challenge popular discourses on immigration and, like all doctoral students, is slated to eventually defend her work before a committee of faculty members. But as the school year begins, she's found herself in a different battle altogether over whether an instructor can ban discriminatory language from her classroom.
Earlier this week, Fowler's syllabus for Comparative Ethnic Studies grabbed national attention for warning students against using terms like "colored," "tranny" and "illegals aliens," or risk a lowered grade. The story was picked up by a range of news outlets from the Washington Post and Fusion to the conservative outlet the Daily Caller. Within hours, Fowler's email inbox and office voicemail were inundated with hateful messages. 
The syllabus, which was once available online, has since been removed. Here are the guidelines as captured by Fusion before it was taken down:
The response has been "really vicious," Fowler told Mic on Thursday. She said the threats include slurs ranging from "douchebag," "cunt" and "bitch," to detailed rape threats. "I've been protecting myself because there's so much hate and venom." One email, with the subject line "Marxist Moron," tells Fowler — who's white — to have a "Nigger-free day." A right-wing blog post laments, "Clearly this bitch is mentally ill and should be fired for such insanity."
The level of that venom is, in a way, surprising given that she's taught the class — with the now-infamous disclaimer on the syllabus — many times before. Students, she says, haven't complained much either, minus the occasional student who can be "very opposed" to talking about their white privilege. But for Fowler, that's the point. 
"I'm a white woman of privilege, so this just makes it personal in a way that it never was," she says. "People of color and undocumented people get this kind of pushback every day."
But that sentiment hasn't stopped the university's interim president, Daniel Bernardo, from issuing a public statement effectively nullifying Fowler's efforts. "No student will have points docked merely as a result of using terms that may be deemed offensive to some," the statement read. 
"I'm a white woman of privilege, so this just makes it personal in a way that it never was. People of color and undocumented people get this kind of pushback every day."
Willingly or not, Washington State has become the latest battleground in the fight over how Americans talk about immigration. Advocates have waged a long battle to eliminate the term "illegal" from acceptable usage. 
"It's racist," Thanu Yakupitiyage, communications manager for the New York Immigration Coalition, told Mic about the term "illegal alien." "It's an inaccurate description of immigrants in this country, and it's used to isolate and racialize immigrants."
In 2006, California university professors Justin Akers Chacon and Mike Davis published the book, No One Is Illegal. In 2010, Race Forward, a racial justice organization, launched a campaign to "Drop the I-Word," and eventually management at the New York Times, Associated Press, NPR and Los Angeles Times adjusted newsroom policy around the term "illegal alien," along with its many iterations. 
The human element: Fowler says the controversy has banded her students together in her support. "My class is sympathetic to the message," she says of the now-scuttled policy. "My [students] who [come in saying] 'illegal alien,' they've been taught to say that, they unconsciously use that phrase. When someone stops and starts speaking out [about] why it's demhumanizing they're very open to talking about embracing a change in their terminology."