Serena Williams Has Become a Corporate Street-Art Phenomenon in Brooklyn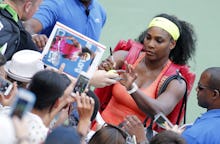 It's hard to remember now, but there was a time when Serena was not the most famous Williams sister playing tennis. For years, that lofty distinction went to her older sister, Venus, who made her professional debut in 1994 at age 14. Since then, the sisters have gone on to form arguably the best and most respected sibling rivalry in sports history, winning 115 professional titles between them. It's one that will again take center stage as they battle one another at the U.S. Open on Monday night. 
But these days, little sister Serena has the edge. She's heavily favored to win the Open, a feat that would earn her 22 Grand Slam titles, which would tie her with Steffi Graf's Open-era record.
Like much of the sports world (and Drake), Gatorade is having a love affair with Serena Williams. The sports drink giant is throwing its full weight behind her, rolling out a heart-wrenching promotional television ad and unveiling a massive mural commemorating her previous 21 championships.
All of the murals are in Brooklyn, New York's Williamsburg neighborhood, on the corner of Kent Avenue and Grand Street, and were designed by the firm Vault49, which commissioned artists from around the world to design images that depicted Williams' career.
The big win: It's easy to write these off as just another corporate publicity campaign. But the art underscores something far more important. Serena Williams, a black woman from Compton, California, who trained on public courts has worked and earned her way to the very pinnacle of athletic greatness. She's easily the most important female athlete of a generation — perhaps several — and she's doing it at an age, 33, when few athletes are still in their prime.