Caitlyn Jenner Headlines 'Ellen' Premiere, Talks Transitioning and Privilege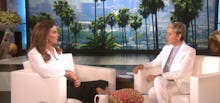 Though Caitlyn Jenner has been called a role model, a hero and was even awarded for her courage to come out as transgender and share her experience, she has still been demonized and attacked by some for her choice to do so. In her first talk show appearance on The Ellen DeGeneres Show, however, Jenner and DeGeneres both illuminated why many transgender people undergo medical procedures related to gender transitioning. 
"There's nothing better than being able to wake up in the morning and be your authentic self," Jenner said in the season premiere, airing Tuesday.
"I think everyone can relate to that," DeGeneres said. "Whether you understand this or not, everyone wants to feel free. Everyone wants to feel good in their own skin. And some people aren't even really sure of what that means, but some people are aware early on in life that you feel different."
While this desire for authenticity at the heart of many individuals' decision to transition may be seemingly straightforward, plenty of factors complicate one's actual ability to act on it — a point Jenner, who is undeniably privileged, recognized.
"I'm just a very lucky person in so many ways," she said. "My experience has been so different than the people in this community."
While many transgender people forgo transition-related procedures, those who wish to do go forward face high barriers to gender affirming surgeries. Namely, the price tag, as these procedures can cost as much as $50,000, the Washington Post reports. However, trans individuals are frequently at a disproportionate economic disadvantage: Transgender workers report unemployment at twice the rate of the general population as a whole and are nearly four times more likely than the general population to earn less than $10,000 annually, according to a Human Rights Campaign study.
"We're trying to make a difference and educate people and open up a conversation so we can talk about this issue because it's out there," Jenner said of her efforts to raise transgender visibility. "People are dying over this issue."
It's a conversation and education that will undoubtedly evolve as Jenner continues to publicly speak out about her journey as well as elevate the experiences of others. 
h/t Billboard