Janet Mock Shares How She Stays Sane and Gets Stuff Done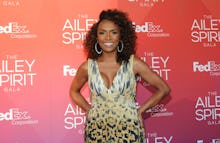 It's been a whirlwind year for Janet Mock. The journalist and author of the 2014 memoir Redefining Realness has her own MSNBC show, So POPular!, on the network's online channel, Shift. She told her life story to Oprah in the spring, and a few weeks ago she took time off to start another memoir based on her young adulthood in New York City. On Sept. 26, she'll be covering the Global Citizen Festival in New York City for MSNBC alongside Willie Geist, Thomas Roberts and Alex Wagner, with high hopes of meeting one of her idols, Beyoncé. 
Mock, along with close friend and actress Laverne Cox, are among the most visible and sought-after transgender women in the U.S. who can talk easily about everything from the skyrocketing number or murders of transgender women of color to her picks for the Primetime Emmys this Sunday. 
That hectic schedule comes at a price: Life at the intersections can be busy and staying sane throughout all of it can be a chore, particularly for people who are deeply invested in fighting for their under-served communities.
Ahead of next week's festival, Mock shared some tips on how she manages to do her work and stay sane.
1. Make time to do absolutely nothing.
"One of the hardest things when you're tasked to do a lot of different things because you have so much obligation, is figuring out how to create space in my life for friendships, for loved ones, for myself to write, and to anchor myself? How do I create space in my scheduling so I'm not doing anything on some days and I can watch the bad reality TV that I need to watch in order to recharge and turn my brain off?"
2. Find people who are a breeze.
"Who can I show up with and just be empty? They don't expect me to do anything and I can just sit there and drink some rosé or something and just unwind?" 
3. Prioritize and delegate tasks — and people. 
"Who is vital in my life and who do I need to spend time with whenever I need that time to be off and show up?" 
4. Elevate others. 
"As I say no to a press request or an opportunity or project, there's also three other women I can recommend to come in and show up in a way that you may not have thought about. What about the middle three names that are never brought into the conversation? How can I lift them up as I rise and do other things and leave certain spaces? How can I make sure that there's someone else that comes in after me, because I think that that's the progress and justice." 
5. Remember we can all be heroes. 
"In this climate where specifically, when we're just talking about trans womanhood, certain of our names are brought up like, there's Caitlin Jenner and Janet Mock and Laverne Cox. Our names that are just rattled off and it's like a prerequisite to talking about any type of story. There are so many other names who are doing work, and they remind me that I am not central to that work. I don't have to do it all, because there are so many other people."
"Though the media tends to say that there's only three of us, I know that there's tons of us out there. We are collectively the hero in the struggle together. We are collectively the heroes and the sheroes together, so that constantly keeps me in check in terms of the humbling nature of what my place is in the world."
The Global Citizen Festival will air on MSNBC and MSNBC.com Sept. 26, 3 p.m. to 10 p.m. Eastern.