Man Films Harrowing Escape From California's Hellish Wildfires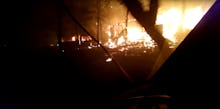 A resident of Anderson Springs, California, filmed a harrowing escape from his burning town in Lake County this week as he and his passengers evacuated from a massive wildfire.
The footage, uploaded to YouTube, captured what the 67,000-acre Valley Fire north of San Francisco (one of 12 separate fires currently raging across the state) looks like as it sweeps over communities.
As the driver makes his escape, he passes by torched vehicles, burning homesteads and clouds of smoke.
Entire properties are burning to the ground.
The flames are so bright, the sky turns red.
This year's California summer wildfires are the worst in the last 30 years, director of the Governor's Office of Emergency Services Mark Ghilarducci told the Associated Press.
"We did wait way too long to get out," the video's uploader writes in the YouTube comments section. "We are the last house at the very back of the Springs, down in a gulch. There was no smoke or ash coming our way, and there were no sirens or air support nearby, so we honestly didn't know how close it was. Once we drove up out of our gulch, we realized how close it was."
The video isn't the only nightmarish imagery to emerge from California this year as wildfires continue to ravage the countryside.
California's astonishing four-year drought, which some scientists believe is the worst in 1,200 years, is intricately tied to the wildfires consuming huge stretches of the state. The New York Times recently reported average California rainfall from 2011 to 2014 was less than half that over the period 1981 to 1984, while University of California, Merced, experts have determined the state's fire season is now 86 days longer than it was in the 1970s.
University of California, Berkeley, fire science professor Scott L. Stephens told the paper that "southern California has a 12-month fire season now. You can have a fire season there any time."
The Atlantic's Matt Ford points out the link between the drought, wildfires and climate change is scientifically well-established by now.
"A study published in Geophysical Research Letters [in August] estimated that climate change's effects exacerbated the Western drought by an additional 15% to 20%," Ford writes. "That same day, NOAA [the National Oceanic and Atmospheric Administration] announced that July 2015 was the hottest month since record-keeping began in January 1880. As climate change continues to worsen, longer and more intense droughts are likely."
California's annual snowpack has receded precipitously, with researchers recently concluding the amount of snow in the Sierra Nevada mountain range is the lowest it has been in 500 years. Another U.S. Forest Service team estimated in August that in one range of the Sierra Nevada foothills, 20% to 30% of trees were dying.
NASA researchers also say their data indicates continued high levels of global carbon emissions may dramatically increase the risk of future mega-droughts, something that would ensure vast stretches of the U.S. Southwest continue to burn in coming decades.
"Natural droughts like the 1930s Dust Bowl and the current drought in the Southwest have historically lasted maybe a decade or a little less," NASA climate scientist Ben Cook said in a statement on the agency's website. "What these results are saying is we're going to get a drought similar to those events, but it is probably going to last at least 30 to 35 years." 
In other words, the harrowing journey captured in the video is also a vision of future wildfires to come, unless the world collectively acts to avert catastrophic global climate change. One brave driver might have escaped Anderson Springs, but humans can't escape that future without making some serious changes.
Watch the video below: