Here Is What You Could Buy for the Cost of Being a Bridesmaid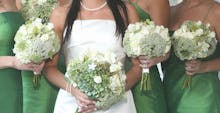 Here's how much it costs to be a bridesmaid: $701. 
That's the average, at least, according to research from the American Express Spending & Saving Tracker, which surveyed a random sample and those in an "affluent demographic." That's a 13% jump from 2014. The average cost of being a mere wedding guest is $673, meaning a spot in the bridal party will cost you.
Rising costs have left some women scrambling into their savings, with one woman confessing she's hesitant to even take a bridesmaid gig because of the money.
"My reluctance to commit to being a bridesmaid stems from one simple reason: I can't afford it any more," Carey Purcell wrote in an essay for Alternet. "The bridesmaid might not be aware of this total as it adds up, unless she keeps an ongoing tally of the expenses. And they do add up."
Indeed, a price of just one bridesmaid dress could run into the $400 range before alterations. Then there's the endless belt of gifts for the bride, from engagement party housewares to bachelorette party penis straws to bridal shower lingerie. For wedding prep, there are manicures, pedicures, hair appointments and professional makeup. Oh, and the price only skyrockets when bridesmaids are expected to travel to far-flung locales.
But there are women out there, both brides and bridesmaids, who are ready to call a spade a spade: The ever-growing list of wedding traditions has gotten out of control. For those out there who'd prefer to buck tradition and put the wedding money toward more sensible and rewarding pursuits, here's what $701 buys.
For $701, you could buy at least 7 dresses that you'd actually wear.
We know you hate it. We know. The threat of taffeta looms large with these dresses — just think of those hot pink, ruffled dresses from Bridesmaids. 
Instead of handing over your credit card in the name of some pastel yellow monstrosity, we suggest you buy a few dresses that you will actually wear over and over again. Just skim through the online retailer ASOS and you'll find more than 1,900 on-trend dresses for under $100. That means you can buy at least seven dresses that are all work-to-night appropriate (and that you can wear more than once), at the click of a mouse. You don't even have to leave your apartment, much less attend a fitting.
For $701, you could swap a bachelorette party stripper for 87 months of Netflix viewing.
Yes, bachelorette parties have the potential to be fun (laughing at fake penises never hurt anyone). But isn't it universally true that absolutely no strippers in the entire world look like Channing Tatum and Joe Manganiello? And isn't it also more than likely that at some point during the festivities, you'll be hit with a strong urge to sag into the couch and watch Bob's Burgers on Netflix?
Instead of shelling out dough for Stuart the Stripper to grind on the bride, you could invest in (therapy, or) a Netflix subscription of your own. Netflix is $7.99 a month, which means you could have Netflix for 87 months. That's seven years. Just a thought... 
For $701, you could pay for makeup that actually does some good.
The bridal mandate to dictate what all her friends look like on her big day includes makeup. Think eyeshadow to match the dress, eyeliner flicked at a precise (and weird) angle and lips glossed unthinkable colors — often applied painstakingly by a professional. 
Rather than bending your own beauty tastes, you could buy makeup for yourself while simultaneously doing some good. MAC Viva Glam lipsticks and "lipglasses" famously benefit the MAC AIDS Fund to help men, women and children living with or affected by HIV/AIDS. One $17 lipstick can buy two "safer-sex kits" (condoms, lube, dental dams), 23 female condoms, 233 male condoms or one pair of shoes for a child orphaned by AIDS. Just think of how much $701 worth of lipstick could do.
There's also Philosophy's Shower for a Cause program, which donates 100% of the net proceeds of the brand's best-selling shower gels to charities such as the the cancer charity Look Good Feel Better and Why Hunger.
For $701, you could buy a roundtrip ticket to a place you want to visit.
Here's where we can really go wild. Rather than flying to Oshkosh, Wisconsin, to witness the nuptials of your best friend from college, why not go somewhere you want to go? As of now, for $701, you could fly roundtrip from New York City to Moscow, Russia, in October or roundtrip to Stockholm, Sweden, with money to spare (for tabloid reading materials in the airport, of course). 
For a more stateside jaunt, flights from New York City to San Francisco are running between $300 and $400 through October. If sun is what you're looking for, roundtrip flights to Miami are going for less than $200. Tempting, isn't it?
For $701, you could buy shoes for yourself and someone in need. 
The only thing worse than buying a dress in a color you hate is paying to dye shoes the same color to match. If you could swap those shoes out for a different style, your money could go a long way. Through the charity Soles4Souls, $1 funds one pair of shoes for a person in need — that's 701 pairs of shoes. (The organization also accept shoe donations by way of U.S. mail and drop-off locations located across the country.) The charity Project Sole is built with the same giving infrastructure in mind, as they encourage monetary donations and the donation of shoes to their headquarters. 
Of course, there's always uber-trendy Toms, the go-to shoe charity in which every pair bought also buys shoes for a child in need. Toms' classic slip-ons for adults teeter around $50. With $701, that would be 14 pairs of cute, durable flats for yourself and 14 pairs of shoes for children who really need them. 
For $701, you could treat your hair to 17 professional blowouts. 
Bridesmaid hair is a touchy subject (seriously, don't touch it; it's shellacked with five layers of spray anyway). Instead of a cliche half-up, half-down style or an ornate up-do you'd never be caught dead in otherwise, $701 could get you 17 professional blowouts at Drybar, which has locations all over the United States, at $40 a pop. Hey, if your friend is so concerned with how your hair looks next to her in photos, she might as well invest in your future Instagrams together rather than just one day of pics.
For $701, you could buy bras and panties for someone who needs them.
Ah, the bridal shower — the bachelorette party's boring older sister. In lieu of gifting the bride more lacy Victoria's Secret gear she will never find time (or the will) to wear, those lacy items could go to lingerie retailer SOMA, which has teamed up with the National Network to End Domestic Violence to collect new and lightly used bras for women at NNEDV-affiliated shelters. SOMA also offers shoppers the chance to buy new bras and underwear for women in need. So far, the company has collected and donated 1,121,000 bras to women across the United States. 
If you'd like to also donate some of your leftover cash, SOMA also encourages customers to donate to a few charities including the American Heart Association and Living Beyond Breast Cancer through its website. 
Who says weddings all need to look the same?